Use Lo-Dough To Create A Low-Carb, High-Fibre Meal.
Seasoned, breaded chicken. Fruity, mild curry sauce. A mound of simply boiled rice. It sounds almost basic, but this dish is really more than just the sum of its parts and the Japanese katsu chicken curry has very much taken British highstreets by storm in recent years. Competing for our attention against better known Indian, South-East Asian and even Chinese curries and meals, this Japanese curry has really started to win the public round to its charms. 
Lo-Dough can be used as a fantastic low-carb crumb for the chicken, but also as the delivery device – in the form of a pizza, or an incredibly low-calorie wrap (if avoiding carby items like rice). If following a low-fat, slimming diet, the classic version with boiled rice is still fine – but swapping panko out for a Lo-Dough crumb covering will give you additional calorie/carb savings, whilst massively boosting the fibre of the dish – always a healthy addition to any meal (also meaning you will feel fuller eating less rice!).
The Low-Calorie Sauce
You can take your time to make your own sauce - if you have the time to do so, it will ultimately create the most delicious version that you could eat. You will need carrots, onions, garlic, ginger, curry powder and stock (at the most basic). There are several simple recipes easily found by searching online. Alternatively, shop around. There are even powdered (just add water) sauces that are very low in calories... here, for convenience, we used one that comes in at 77 calories per 100g! 
When you make your breaded chicken - we recommend making one extra - check out this recipe for a perfect meal the following day... 
Whichever way you make it, if you want the lowest calorie, lowest carb, highest fibre version, make it with Lo-Dough.
Ingredients
Serves 1
Half a piece of Lo-Dough, blitzed to crumbs
1 chicken breast, skin removed
1 small egg, beaten, for egg-wash
A teaspoon of curry powder
100g of Mayflower Curry sauce (after making up)
150g of cooked basmati rice
20 sprays of oil
Salt & pepper
What you'll need
This diet-friendly recipe is possible with:

Original Lo-Dough Bases
Regular price
from £3.49
Out of stock
Method
Preheat your oven to 200C/392F/Gas mark 6.
Season the chicken with some salt and pepper.
Add the seasoned chicken to a bowl with the beaten egg and ensure it is well coated.
In a separate bowl add the curry powder to the Lo-Dough crumbs and mix. Add the egg-coated chicken to the crumbs and shake to coat well. Press the crumbs on with your hands for a firmer thicker crust.
Spray each piece with a few sprays of fry light and put on a tray and into the oven. Around halfway through the cooking time, give them a few more sprays to help crisp up.
Whilst the chicken is in the oven, make up your curry sauce according to the instructions and cook your rice.
After 15-20 minutes, take the chicken out of the oven and allow to rest on a cold plate/board for a couple of minutes - this will make the coating even crispier. Slice into bite sized pieces. Serve with the rice and sauce.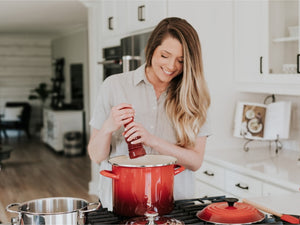 Hungry for more recipes?
Join over 200,000 subscribers in receiving new recipes, tips, offers and a whole lot more.