Low-calorie cheesy garlic bread - made easy
This is our recipe for a flavoursome, low-calorie, low-carb cheese and garlic bread. It is super-simple to make and ready to eat in just over under 15 minutes.  Wanna make your life even easier? Use jarred, squeezie paste or ideally, fresh garlic. We also used half-fat creme fraiche mixed with herbs and garlic as the base, but you can use half-fat cheese if you like - whatever you have to hand. Lo-Dough recipes are nothing if not adaptable. 
Incredible low-calorie garlic bread can be yours in minutes
Nothing beats garlic bread - on its own, as a side (great with soups, stews etc). It's the perfect partner to meatballs too. 
Give our version a go -  you won't regret it. 
Ingredients
Serves 1
1 piece of Lo-Dough
1 large teaspoon of 'Very Lazy Garlic' or some crushed garlic
60g of grated cheese (cheddar, mozzarella, or any other good melting cheese)
2 tablespoons of low-fat creme fraiche
1 tsp of chopped parsley
What you'll need
This diet-friendly recipe is possible with:

Original Lo-Dough Bases
Regular price
from £3.49
Out of stock
Method
Preheat your oven to 220°C/425F/Gas 7.
Mix the garlic with the creme fraiche and some parsley and then spread over your piece of Lo-Dough.
Add the grated cheese on top, ensuring an even spread right to the edge.
Place into your oven for approx. 7 mins or until the cheese is bubbling and golden brown. Sprinkle the chopped herbs over the top serve.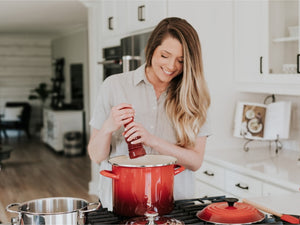 Hungry for more recipes?
Join over 200,000 subscribers in receiving new recipes, tips, offers and a whole lot more.