Low-carb, low-calorie crab cakes make for an amazing light meal
Fragrant, sweet, sour, salty AND spicy, these Thai fish cakes are a mouthwatering use of Lo-Dough in its crumb form. The calories and carbs are low as ever, but you wouldn't know it from the flavour. Also, thanks to Lo-Dough's incredible high fibre content, something that would normally be served as a starter, becomes a light but filling meal. They are incredibly simple to make too, using a few simple ingredients and taking no longer the 5 minutes to cook. 
Our thousands of Lo-Dough users swear by these nutritional, low-calorie alternative meals. Whether you are slimming or focused on your fitness and nutrition, going Lo-Dough can be a real game changer.
Ingredients
Serves 3
1 piece of Lo-Dough, blitzed to a crumb
85g tinned crab meat, drained well
1 small egg (approx 50g), beaten
20g of quark
Half a red chilli, finely chopped
Half a clove of garlic, finely chopped
Zest of 1 lime
A small handful of coriander, chopped
4 sprays of fry-light
Salt & pepper
What you'll need
This diet-friendly recipe is possible with:

Original Lo-Dough Bases
Regular price
from £3.49
Out of stock
Method
Add your all the ingredients to a bowl and mix well. Form into three small cakes.
Oil a pan with the fry-light and on a medium heat, fry the cakes for approx. 3 minutes on each side.
Serve with sides of your choice. We think sweet chilli and soy are a must, plus homemade pickled carrots, salad and more coriander.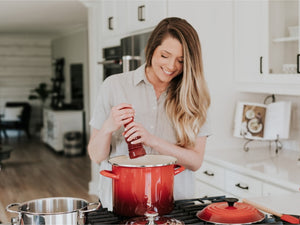 Hungry for more recipes?
Join over 200,000 subscribers in receiving new recipes, tips, offers and a whole lot more.