An On-Plan Lasagne That Doesn't Feel Like A Compromise
This one isn't just low-carb, it's low calorie too. It can even be made into an ultra low carb, keto-friendly dish, or a low-fat slimming meal! Here, we'll run through some basic principles when making the sauce as to how to make your lasagne suit almost any diet, so you can all enjoy this classic dish in all its glory. Each recipe uses 2 pieces of Lo-Dough, but provides 4 very substantial portions (or possibly 6 smaller portions) - try serving with a simple green salad! 
Low-Carb & Low-Cal Lasagne
We've made this one our 'base' recipe as it is the closest to the traditional recipe but still remains low-carb and low-calorie. Use beef mince (browned in spray oil), diced carrot, onion and mushrooms and a clove of garlic (softened in spray oil) and mix them with a tin of tomatoes and some beef stock. Season the mixture well, transfer to a baking dish and allow it to cook slowly in a low oven for a good couple of hours until the liquid had mostly evaporated and you are left with a rich beef mince ragu.
Other additions could be herbs, a little chilli and any other vegetables that you might fancy. Use a half-fat creme fraiche as your white sauce and mixture of 40-50g mozzarella and 20g of parmesan on top. The nutritional info for this lasagne is at the bottom of this page.
Keto Lasagne 
For a keto dish, dial back on the amount of onion and carrot you use - maybe just a half of each. Use a couple of cloves of garlic to keep that background flavour up. Brown your mince and veg in good quality olive oil (or avocado oil) - for some additional healthy fats. Don't add the tinned tomatoes - use a spoon or two of tomato puree and use beef stock as the predominant liquid in this recipe (this is actually closer to authentic Italian recipes anyway - ragu is, strictly speaking, a 'meat sauce'). Cook for a couple of hours and reduce down to a dryish sauce as above. Use full-fat creme fraiche as your white sauce and add plenty of cheese. This will yield an ultra low-carb lasagne, with more fat and more calories than our base recipe. 
Slimming Lasagne
For a slimming lasagne, make sure you use lean beef mince only (ideally 5% fat)  Supplement some of the bulk of the mince with lots and lots of finely chopped vegetables - think courgettes, mushrooms, carrots, peppers, maybe even some beans - or anything else you like. Once softened (in fry light!) mix with stock and tinned tomatoes and slowly cook down (on the hob, or in a medium-low oven) for a couple of hours until it reaches a dryish consistency. When it comes to layering up this lasagne - use fat-free yoghurt instead of the creme fraiche - and go easy on your cheese - or use a half fat cheese. This will give you a much lower fat dish, with slightly fewer calories than the base recipe, but a higher amount of carbs (albeit, mostly healthy green carbs from the vegetables!).
Vegetarian Lasagne
Swap out the mince for a veggie-mince replacement, or simply fill your sauce with loads and loads of chopped vegetables (This will result in a lower fat, lower calorie, but higher carb lasagne)!
Ingredients
Serves 4
(Ingredients here are for our base recipe - as above)
2 pieces of Lo-Dough
600g of lean steak mince
1 tin of plum tomatoes
1 carrot, finely chopped
1 onion, finely chopped
10 mushrooms, finely chopped
1 clove of garlic, finely chopped
1 heaped teaspoon of thyme, finely chopped
1 beef stock pot, made up to 125ml
3 tablespoons of half fat creme fraiche
45g of grated mozzarella
20g of finely grated parmesan
Spray oil
Salt & pepper
What you'll need
This diet-friendly recipe is possible with:

Original Lo-Dough Bases
Regular price
from £3.49
Out of stock
Method
Preheat the oven to 180C/Gas 4.
Roll out your 2 pieces Lo-dough flat.
Take approx half of your ragu sauce and spread in the bottom of a baking dish (circular is easiest, given Lo-Dough's shape!).
Add one piece of Lo-Dough on top and spread approx 1.5 tablespoons of creme fraiche over this piece.
Add the remaining ragu, the second piece of Lo-Dough, the remaining creme fraiche and sprinkle over the cheese.
Bake in the oven for 30-35 minutes, or until golden brown. Take out and serve each portion with a green salad on the side.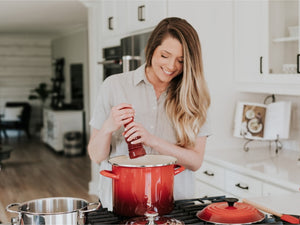 Hungry for more recipes?
Join over 200,000 subscribers in receiving new recipes, tips, offers and a whole lot more.