This High-Fibre Mug Cake Delivers On Flavour
This 70's dessert is making a comeback in a much more mindful style! All the elements of the original pie are there - Banana, toffee sauce, cream, dark chocolate... but we've gone about it in such a way that you won't be loading up on masses of added sugar or refined carbohydrate! In fact, 18 of the 22g of carbs here come solely from the banana itself. If following a strict ketogenic diet, you would have to avoid this, but if just counting calories, this one is well worth trying! The banana carries so many other healthy nutrients (vitamin B6, manganese, potassium and fibre) that they fall very much into the 'good' green carb camp. By swapping out sugar for quality sweetener, you can still make a fantastic toffee sauce without having to reach for the heavily sweetened condensed milk of the original recipe. 
As ever, it's Lo-Dough that is doing so much of the heavy lifting here - at only 2.2g of carbs, 39 calories and 9.3g of fibre, it really does make a huge difference as a baking ingredient. By blitzing Lo-Dough down to a crumb in a small food processor/nutri-bullet, you end up with a fantastic replacement for flour. It only takes a couple more ingredients and 2-3 minutes in the microwave and your cake is pretty much ready (ok - in this case, you need to cool it down before you can put the cream on it!). 
No-Sugar Toffee Sauce 
A knob of butter, a splash of cream and a couple of spoons of erythritol sweetener (available online and in health food stores) boiled down briefly with just a drop of gravy browning (trust us, you won't taste it) makes the perfect light toffee sauce. The combination alongside the cream, the banana cake and the chocolate makes for a truly decadent tasting dessert.
Ingredients
Serves 1
1 piece of Lo-Dough, blitzed to fine crumbs
1 large egg, beaten
80g of banana (1 small). Take a few slices for decoration and crush the rest with a fork
20ml of whipping cream, whipped
3g of dark chocolate (grate or make chocolate curls to make this go further)
1 teaspoon of sweetener
For the toffee sauce
25g of sweetener
10g of butter
30g of single cream
A tiny pinch of salt
A drop of gravy browning
What you'll need
This diet-friendly recipe is possible with:

Original Lo-Dough Bases
Regular price
from £3.49
Out of stock
Method
Add all the blitzed Lo-Dough, the egg, the crushed banana and the sweetener to a bowl and mix thoroughly.
Add to a wide mug, smoothing off the top.
Cook in a microwave for 2.5-3 minutes. After cooking, take out and check by pressing the bottom of the mug cake. It should feel firm to touch, slightly moist and have a little bounce.
Take out and leave to stand in the mug for a further minute before turning out onto a plate (the larger side should be facing up). Allow to cool.
Spread the whipped cream over the top and then top with the chocolate curls/grated chocolate.
Meanwhile, add all the sauce ingredients to a pan and bring to a simmer for a couple of minutes.
Spoon the sauce around the mug cake and serve.
Note - because sweetener is a little different to sugar, the sauce may start to crystallise as it cools, depending on the sweetener. It wont affect the flavour, but it's best serving hot, at the last minute, for a smooth sauce.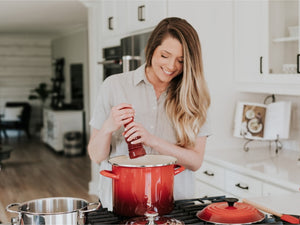 Hungry for more recipes?
Join over 200,000 subscribers in receiving new recipes, tips, offers and a whole lot more.