Filling, Satisfying & Utterly Delicious, These Low-Calorie Enchiladas Are Just The Ticket For Family Meal Times. 
If some serious veggie comfort food is what you are after, these low-cal veggie enchiladas will tick all the boxes. They come in at 170 calories each and just 16 carbs per portion, as well as a massive 15g of fibre - half your daily recommended intake. 
As far as taste goes, this is a real crowd-pleaser. Loads of Mexican-spiced veg (mix up the veg - use anything you like really!), loads of rich spicy sauce and a good amount of cheese on top too. 
For the finishing touch serve with sour cream and a few extra jalapenos!  
Ingredients
Serves 4
For the filling
4 pieces of Lo-Dough
Half a tin of mixed bean salad
60g of courgette, diced
1 medium red pepper, sliced
50g of mushrooms, sliced
Half an onion, sliced
5 cherry tomatoes
60g grated mozzarella and cheddar
A small sachet of fajita Mexican spice mix
A few sprays of oil
For the sauce
1 clove of garlic
400g of passata
Half a teaspoon of cumin
A handful of chopped coriander
What you'll need
This diet-friendly recipe is possible with:

Original Lo-Dough Bases
Regular price
from £3.49
Out of stock
Method
Preheat your oven 200C/Gas 6.
In a frying pan, stir fry your veg with half the mexican-spice mix in the a good few sprays of oil until tender. Put to one side.
Get a sauce pan on a medium heat. Quickly sweat the garlic in the spray oil for a few seconds then add all the other sauce ingredients, the remaining spice mix and about 200ml of water. Allow to simmer for a few minutes until thick and rich.
Roll out your Lo-Dough so they become a little thinner. Add a quarter of the filling mix and roll it up. Repeat with the other pieces of Lo-Dough and the remaining filling.
Take a tight fitting baking dish and add half the sauce. Place the four wraps in side by side (fold side down to make sure they stay shut). Add the remaining sauce and cheese on top - ensure the wraps are well covered. Place in the oven and cooking until golden and bubbling - this should take approx 20-25 minutes.
Serve alongside some salad and any accompaniments of your choice (guacamole, sour cream, salsa, jalepeno peppers, coriander etc).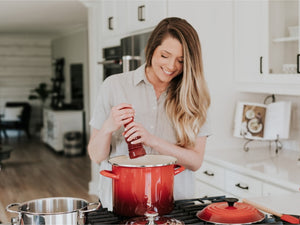 Hungry for more recipes?
Join over 200,000 subscribers in receiving new recipes, tips, offers and a whole lot more.