Steak wrap for just 5g carbs? Welcome to your post-workout future
Carnivores - come one, come all! It's another Lo-Dough smash. This steak and chimichurri sauce wrap is a huge 27g of protein for just 360 calories and 5g of carbs. Though 25g fat, it's all natural fats - using quality olive oil for the dressing. You can always cut away any fat on the steak after cooking if desired for more savings!
But enough about that, the real reason to make this one is that it's a taste sensation - with the steak and the sauce bouncing off each other perfectly. By lightly wetting your Lo-Dough and rolling it out flat - even lightly frying it, you end up with an amazing, thin, tortilla-style wrap to hold whatever ingredients you decide to put in. 

Low Carb Sandwich Wraps
We really do recommend you go with this one - finely chop all your chimichurri ingredients and dress them in good quality olive oil. This can be served with roasted meats, veg or fish - you won't be disappointed in any case. Complete your wrap with some simple salad and away you go!
Ingredients
Serves 1
1 piece of Lo-Dough
125g of steak (about half a steak)
20g of roasted red pepper, finely chopped
5g of fresh coriander, finely chopped
2g of fresh parsley, finely chopped
1 clove of garlic, finely chopped
15g of quality olive oil
20g of mixed salad leaves
10g of red onion
Spray oil
Salt & pepper
What you'll need
This diet-friendly recipe is possible with:

Original Lo-Dough Bases
Regular price
from £3.49
Out of stock
Method
Season your steak liberally with salt and pepper and fry on a high heat in the spray oil until cooked to your liking. We recommend 3 minutes a side and that it be left it a warm place to rest for approx 5 minutes - this will give you a perfect medium rare.
Add the pepper, coriander, parsley, garlic, oil and seasoning to a bowl and mix well. (The amount listed is what you will use - we recommend making a lot more for future meals).
Wet your Lo-Dough lightly on both sides and roll out flat between two pieces of silicone paper (provided in the pack). Lightly toast the Lo-Dough in a pan for 30 seconds if desired.
Arrange the salad ingredients on your Lo-Dough.
Once rested, slice the steak and place over the salad. Drizzle the chimichurri sauce over.
Wrap up and eat straight away, or wrap up in foil and save for later in the day.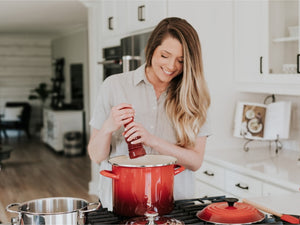 Hungry for more recipes?
Join over 200,000 subscribers in receiving new recipes, tips, offers and a whole lot more.