Health family meals have never been easier. Check out this delicious low-calorie lasagne
Lasagne is one of the great one-pot wonders. The protein, the carbs, the sauce(s) and the veg are all arranged and cooked in the one dish; and served from it too. 
For those looking for a way to alter the nutritional make up of this dish to suit your weight loss or low carb goals, swapping the pasta sheets for Lo-Dough is the simplest way.

By taking out the pasta with it's refined carbs, you not only lower the carbohydrate content of the dish, but lower the calories too.
This low-calorie chicken arrabbiata version is a delight to eat. You can make it as hot with chilli as you like, so if sharing with children, just dial back a little.
Ingredients
Serves 6
3 Original Lo-Dough Bases
8 Boneless, skinless chicken thighs
2 peppers, one red, one yellow, sliced
Half a red onion
A pinch of chilli flakes
1 clove of garlic, finely chopped
A few basil leaves
100g of reduced fat cheddar, grated
150g low fat plain yoghurt
150g passata
20g of parmesan, finely grated
Salt & pepper
What you'll need
This diet-friendly recipe is possible with:

Original Lo-Dough Bases
Regular price
from £3.49
Out of stock
Method
Preheat the oven to 180C/Gas 4.
Roll out your 3 pieces Lo-dough flat.
Place you chicken thighs on an oven tray and bake for 25 minutes until cooked through. While they cook, in a large pan, sweat your peppers, onions and garlic for 5 minutes and add the passata. Simmer for five minutes. Once the chicken is cooked, shred and add to the sauce. Season to taste.
Take approx half of your chicken sauce and spread in the bottom of a baking dish.
Add one and a half pieces of Lo-Dough on top and add 75g of yoghurt over that spreading evenly. Add a small handful of cheddar cheese. Then add the next half of the chicken sauce.
Add the second piece and a half of Lo-Dough and push down. Top this piece with the remaining yoghurt, cheddar cheese and parmesan. Decorate with the basil.
Bake in the oven for 30 minutes, or until golden brown. Take out and serve each portion with a green salad on the side.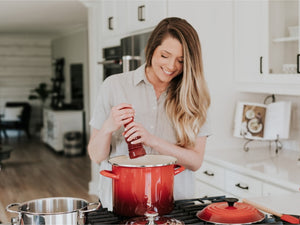 Hungry for more recipes?
Join over 200,000 subscribers in receiving new recipes, tips, offers and a whole lot more.