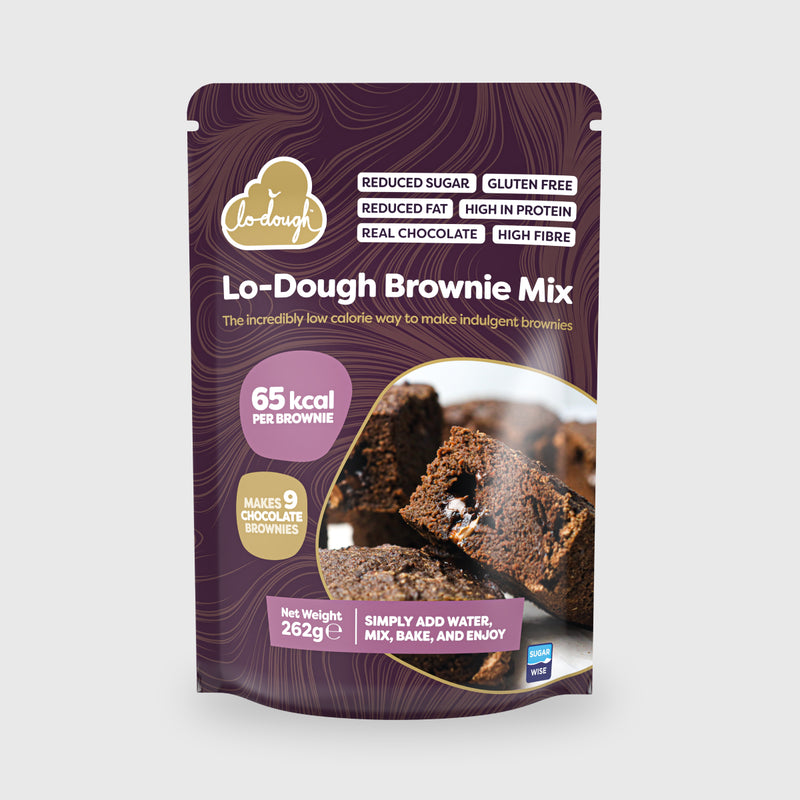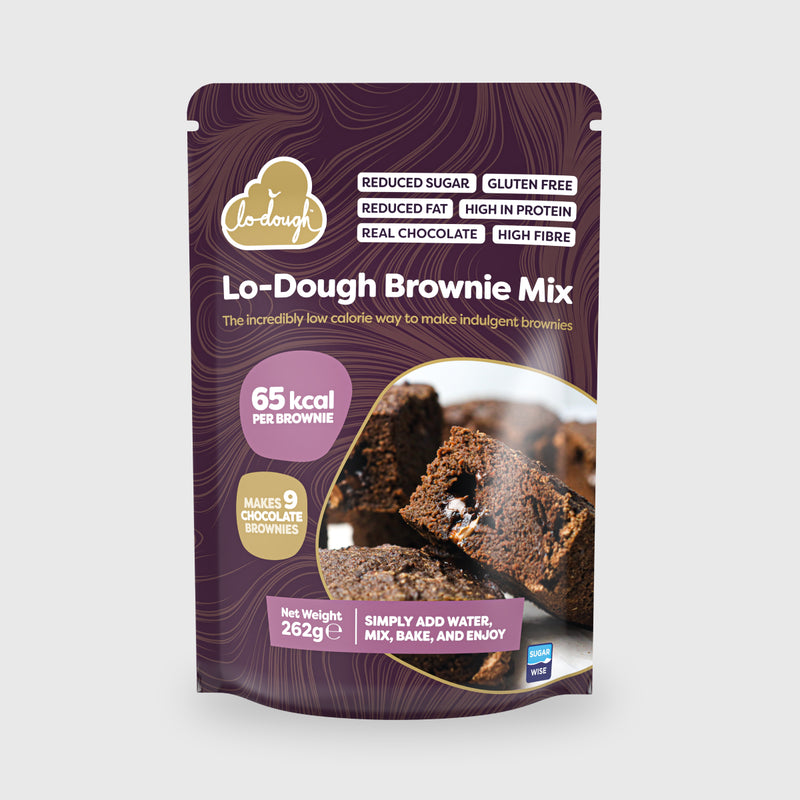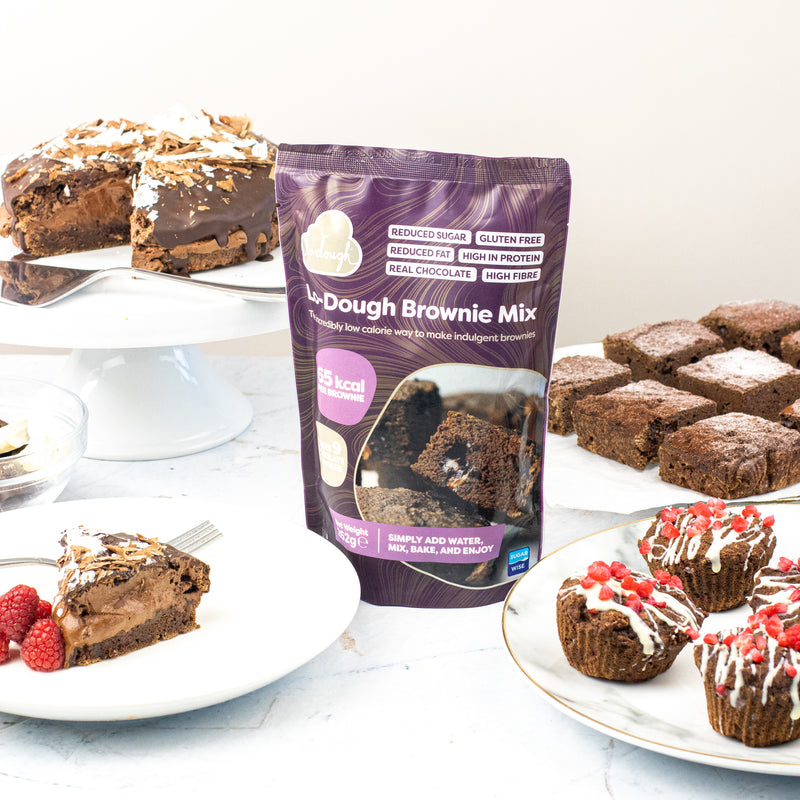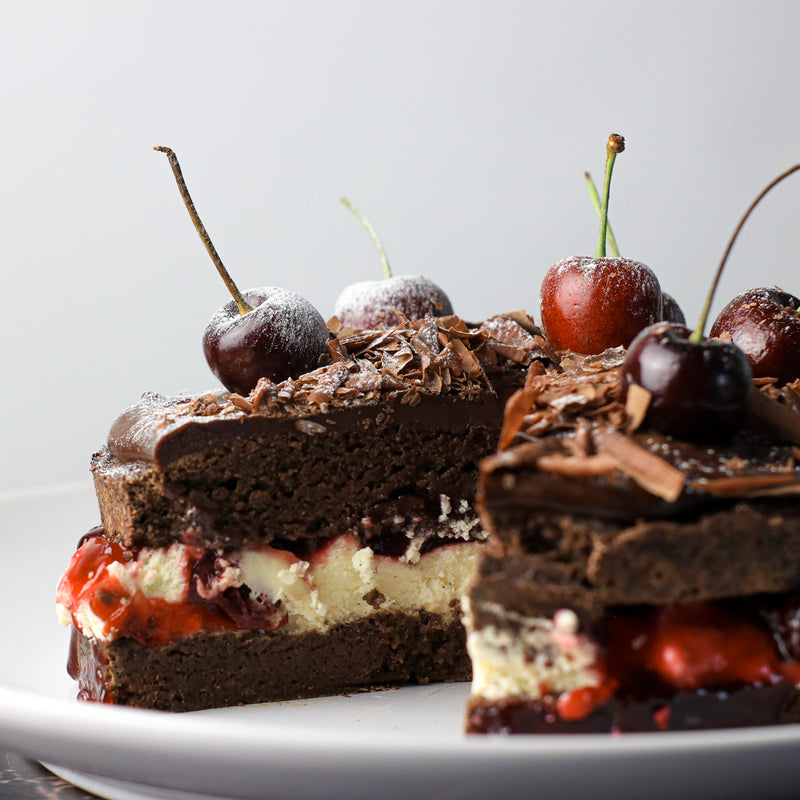 Lo-Dough Brownie Mix
The incredibly low calorie way to make indulgent brownies.
Out of stock
Unfortunately, this item is currently out of stock. Please check back in later, or explore our range of products.
Just add water and bake.
It's that simple. Lo-Dough Brownie Mix is like no other, considerably lower in both calories and carbs than anything else on the market. At just 65 calories per portion, there's so many reasons to love these indulgent brownies.
65 calories per brownie

Makes 9 brownies

Reduced fat

Low-impact carbs

Reduced sugar

High protein

High fibre

Gluten free

Real milk chocolate chips

Eat the foods you love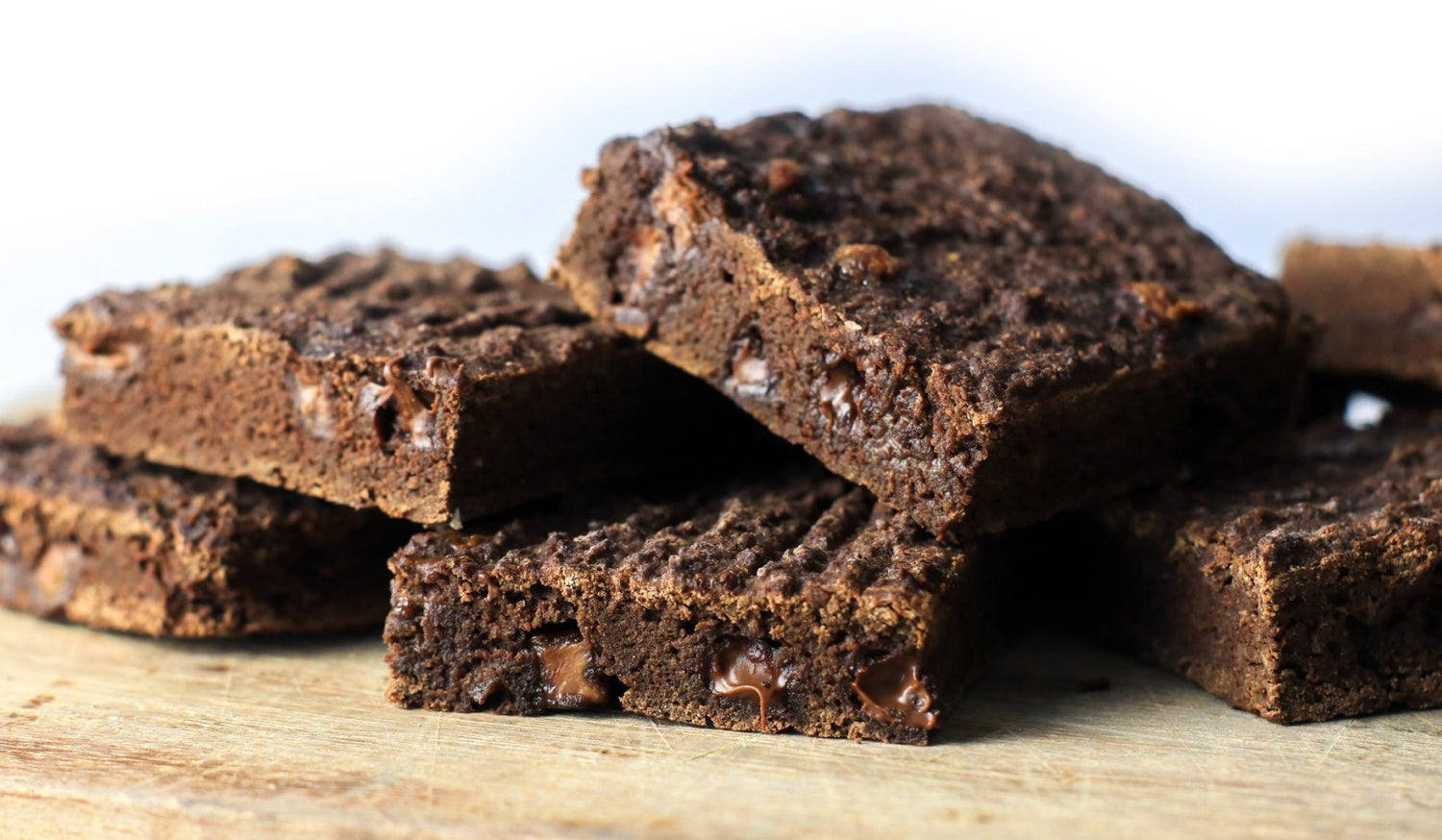 The incredibly low calorie way to make indulgent brownies. 20% off when added to basket.
Simply add water, mix and bake to create 9 generous portions of chocolate brownie heaven.
And that's not all, our mix is gluten-free, high-protein and each piece contains over 7 grams of gut-friendly fibre. All this makes Lo-Dough Brownies more of a superfood than a guilty pleasure! One bag of our mix makes 9 substantial pieces. As soon as you bite down, you'll be greeted with the familiar, rich taste of premium cocoa, a soft, fudgy texture and real chocolate chunks.
Join thousands of people losing weight, managing their blood sugar levels and hitting their macros by simply swapping to Lo-Dough.
---

Certified Reduced Carb
People's Choice
Recipes 550

Searching for simple tasty recipes using Lo-Dough Brownie Mix?

Whether you're low-carb, low-cal, gluten-free, or working out, we've got hundreds of delicious recipes for you to choose from.

GF V

Low-Cal Banana Brownies (Brownie Mix)

Calories 77 kcal Carbs 6.7g Fibre 8.5g Protein 4g Sugar 3g

GF V

Keto Coconut Brownies

Calories 126 kcal Carbs 4.5g Fibre 7g Protein 4.5g Sugar 3g

GF V

Brownie Lollipops

Calories 113 kcal Carbs 7g Fibre 7g Protein 5g Sugar 4g

GF V

Chocolate Ice-Cream Sundae (Brownie Mix)

Calories 289 kcal Carbs 40g Fibre 11g Protein 16g Sugar 15g

GF V

Low-Calorie Ice Cream Sandwich (Brownie Mix)

Calories 111 kcal Carbs 11.2g Fibre 8.1g Protein 4.6g Sugar 4.8g

GF V

Low-Calorie Chilli-Chocolate Brownies

Calories 125 kcal Carbs 8g Fibre 8g Protein 4g Sugar 5g

GF V

Low Carb Coffee & Walnut Brownies

Calories 89 kcal Carbs 4g Fibre 7g Protein 5g Sugar 2g

GF V

Raspberry & White Chocolate Brownies

Calories 97 kcal Carbs 7.1g Fibre 7.1g Protein 3.6g Sugar 5.4g

GF V

Low-Calorie Chocolate Cake

Calories 203 kcal Carbs 10g Fibre 10g Protein 6g Sugar 7g

GF

Low Calorie Miso Brownies

Calories 69 kcal Carbs 4g Fibre 7g Protein 4g Sugar 2g

GF V

Low-Calorie Chocolate Cheesecake

Calories 198 kcal Carbs 8g Fibre 7g Protein 15g Sugar 4g

GF

Low-Cal Coconut Brownies

Calories 112 kcal Carbs 5g Fibre 7g Protein 4g Sugar 3g

GF

Low-Carb Orange-Cream Cupcakes

Calories 111 kcal Carbs 4g Fibre 7g Protein 4g Sugar 2g

GF V

Low-Cal Cherry & Raspberry Brownies

Calories 76.7 kcal Carbs 6.2g Fibre 8.2g Protein 3.7g Sugar 5.2g

GF V

Halloween Ghost Brownies

Calories 173 kcal Carbs 17g Fibre 7g Protein 5g Sugar 10g

GF V

Chocolate Ripple Baked Cheesecake

Calories 262 kcal Carbs 9g Fibre 6g Protein 9g Sugar 7g

GF V

Lo-Dough Brownie Birthday Cake

Calories 170 kcal Carbs 8g Fibre 9g Protein 5g Sugar 5g

View all
Reviews

More reviews
Ingredients & nutritionals

Lo-Dough Brownie Mix
Net dry weight 262g / Serving size (1 brownie) 53.1g
Per 100g
Per 53.1g serving
Energy (kJ)
511 kJ
271 kJ
Energy (kcal)
123 kcal
65 kcal
Protein
6.8g
3.6g
Fat
4.3g
2.2g
of which saturates
2.5g
1.3g
Carbohydrate
29.9g
15.9g
of which sugars
4.5g
2.4g
of which polyols
22.2g
11.8g
Fibre
13.3g
7.1g
Salt
0.5g
0.3g
Ingredients & Allergens

Erythritol, Wheat Fibre (Gluten Free), Milk Chocolate Chunks (Sugar, Whole Milk Powder, Cocoa Butter, Cocoa Mass, Whey Powder (Milk), Skimmed Milk Powder, Emulsifier: Soya Lecithin, Natural Vanilla Flavouring), Dark Chocolate Chunks (Sugar, Cocoa Mass, Cocoa Butter, Emulsifier: Soya Lecithin, Natural Vanilla Flavouring), Dried Free Range Egg White, Cocoa Powder, Stabiliser (E464), Colour Caramel E150c, Konjac Flour, Psyllium Husk Powder, Ascorbic Acid, Salt, Carob Gum, Xanthan Gum.

Allergens shown in bold.
May contain: Mustard, Sesame