This quick autumnal cake is a perfect and warming low-cal pudding
Here at Lo-Dough, we love a mug cake. You can make them with our Original Lo-Dough bases, our Lo-Dough Brownie Mix and, as we have done here, our Vanilla Sponge Cake Mix. 
Usually, we'd just add 40ml of water to 30g of our mix and microwave for two minutes. After one more minute resting, you'd have a vanilla mug cake ready to serve. Here, we've added some of our favourite autumnal flavours (pumpkin—as a puree, mixed spices) and instead of using water, we've added milk and coffee to create an amazing pumpkin spice latte cake.
How you serve it is up to you, but when the weather is cold, what could be better than hot custard?  
Ingredients
Serves 1
30g of Lo-Dough Vanilla Sponge Mix
30ml milk
20ml coffee
2 tablespoons of pumpkin puree
1 teaspoon of mixed spice
Method
Add 30g of the mix to a mug, then add the milk, coffee, pumpkin puree and spice and mix well.
Microwave on high (800 watts) for 2 minutes and leave to stand for a further 1 minute. Serve with custard, cream, low-cal ice cream or yoghurt.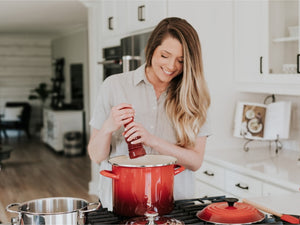 Hungry for more recipes?
Join over 200,000 subscribers in receiving new recipes, tips, offers and a whole lot more.