This might be our most decadent quiche yet - but still super low on the carbs and calories!
This is what we're talking about. Cheese, cheese and more cheese, all bound up in a creamy egg custard with a few sweet onions and held together in a beautiful low-carb Lo-Dough quiche base. Quick and simple to put together and deliciously cheesy to taste... this is one recipe you've just got to try.

We've gone with gruyere, gorgonzola, mozzarella and parmesan, but you can pick you own favourites, of course. 
Ingredients
Serves 4
One piece of Lo-Dough, rolled flat with a rolling pin
4 large eggs, beaten
150ml of half fat creme fraiche
20g of grated mozzarella
20g of gorgonzola, crumbled
20g of grated gruyere
10g of grated parmesan
A bunch of chives, chopped
Half an onion, finely sliced and lightly fried
Salt & pepper
What you'll need
This diet-friendly recipe is possible with:

Original Lo-Dough Bases
Regular price
from £3.49
Out of stock
Method
Preheat the oven to 160C/325F/Gas 3.
Push the Lo-Dough into a 7-inch tin. Make sure to do this evenly, taking care to push it into the corners and create an upright edge.
Arrange the onion and cheese in the Lo-Dough.
Whisk the 4 eggs and creme fraiche in a bowl with the finely chopped chives and season to taste with salt and pepper.
Bake in the oven for 30-35 minutes. Take out and allow to cool on a rack for at least 10 mins. Enjoy warm or cold!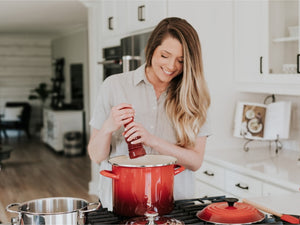 Hungry for more recipes?
Join over 200,000 subscribers in receiving new recipes, tips, offers and a whole lot more.