Put down the crisps - Lo-Dough is here to save the day with it's low calorie, low carb, delicious alternative. Follow our steps for the sauce and it will be just 92 calories for the entire thing.
We've posted a recipe for cracker-breads before, but after a bit of experimenting, we've discovered you can microwave Lo-Dough with a couple of other sprinkles to make delicious, low calorie, low-carb and high fibre (read: filling, satisfying) snacks.
For flavour and texture we have used some of Spicentice's ChimiChurri Rub and Eatlean's Protein Cheese Shaker. You could do this with grated parmesan and a spice mix of your own, but it wouldn't be quite the same - and definitely wouldn't have the same low-calorie quality. 
For a dip, we used some Nowt Poncy Arrabbiata Sauce with an addition of lime and coriander to make a simple salsa. Again, you could use a tomato passata, but we've loved Nowt Poncy's sauces ever since we first tasted them and as an added bonus, they are low calorie, low salt, low sugar... it sounds to good to be true right?
The whole snack, including the salsa is 92 calories. 
Get your rolling pin at the ready... that and the microwave is all you'll need.
High fibre | fat free | low-carb | gluten free | dairy free | high protein | paleo | vegetarian | sugar free 
Ingredients
Serves 1
1 piece of Lo-Dough
A good shake of 'Eatlean Protein Cheese Shaker'
A good pinch of 'Spicentice Chimichurri Rub' (a mixture of oregano, fennel, garlic, tomato and other herbs and spices)
100-120g Passata (we use Nowt Poncy Arrabbiata sauce)
A squeeze of lime
A little chopped, fresh coriander
A few sprays of spray oil
What you'll need
This diet-friendly recipe is possible with:

Original Lo-Dough Bases
Regular price
from £3.49
Out of stock
Method
Spray your low dough with a couple of sprays of oil Add a shake of the cheese and a sprinkle of the rub on to one side of the Lo-dough. Run over with a rolling pin (use the paper the Lo-Dough comes with as a protective barrier) to push them into the dough. Repeat on the other side.
Place on a plate and microwave for two minutes.
Remove and break up into pieces. Add a little fresh coriander and a squeeze of lime to your passata and serve.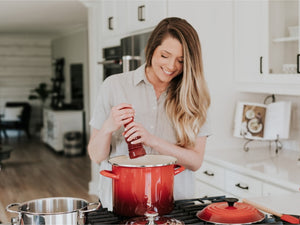 Hungry for more recipes?
Join over 200,000 subscribers in receiving new recipes, tips, offers and a whole lot more.