It is said that breakfast is the meal of champions: The novel, dating back to 1973 is the story of "two lonesome, skinny, fairly old white men on a planet which was dying fast." until Wheaties took the well known saying as a slogan for their own breakfast campaigns back in 1927.
Is it time for a revival? With low carb diets taking the Western world by storm, we began to really hone on what it means to enjoy a low carb diet full of healthy, natural fats. Naturally, we began to fantasise about the perfect breakfast combination of fats, proteins, and carbohydrates which brings us to this epic breakfast dish. 
Top Tip: The longer you soak your Lo-Dough in the egg the better. For this recipe, we soaked ours for 60 minutes before frying, however, if time is not on your side, we would recommend soaking in the egg for at least twenty minutes.
LoDough is the perfect vessel for a breakfast taste sensation. With each piece coming in at only 39 calories and 2.2 grams of carbs, Lo-Dough makes for an incredible eggy bread breakfast experience. For this dish, we teamed it up with maple cured streaky bacon, avocado and sumptuous tomatoes on the vine.
Ingredients
Serves 1
2 pieces of maple cured bacon
½ Avocado (diced)
1 piece of Lo-Dough
1 whisked egg
1 handful vine tomatoes halved
1 spear of asparagus, stalked removed and sliced thinly
1 tsp lemon juice/zest
15g brie
Pinch of cracked black pepper
What you'll need
This diet-friendly recipe is possible with:

Original Lo-Dough Bases
Regular price
from £3.49
Out of stock
Method
Take one piece of Lo-Dough out of the packet and soak in egg wash.
Sprinkle with Pepper and leave to soak for 20 minutes.
Mix the avocado, asparagus, tomatoes, lemon juice/zest and season with salt and pepper.
Cook bacon on a griddle pan until crispy.
Remove the Lo-Dough and place into the frying pan (we used the same pan as the bacon to soak up all of the tasty juices). Fry for approx one minute on each side before removing from the pan.
Layer your eggy Lo-Dough with bacon, avocado, tomatoes, brie, and asparagus.
Wrap and place in toastie press for 5 mins, wholla! You're now ready to devour the perfect ketogenic breakfast to start your day.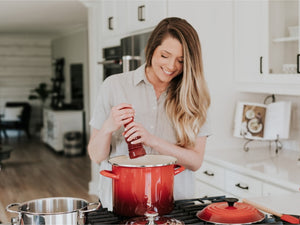 Hungry for more recipes?
Join over 200,000 subscribers in receiving new recipes, tips, offers and a whole lot more.