Bacon & Banana Pizza Is Actually A Thing - and with Lo-Dough it's a real treat 
Believe it or not, banana is a common addition to pizza in Sweden. They actually do it with a curry style sauce on the base, but we thought we'd ease you in with this unusual pizza recipe... one step at a time. 
It's definitely a crowd splitter - 'Thank God it's a Lo-Dough pizza, because it wouldn't be worth the calories otherwise'. 
But that's just one man's opinion - some of the other guys at Lo-Dough towers thought it was actually pretty good, sort of like a Hawaiian (ham and pineapple), salty and sweet. It's also high in protein and fibre and only 404 calories, even with regular bacon!   
It definitely isn't gonna suit everyone - but it would be remiss of us not to feature it.
Did you know? Lo-Dough is:
High fibre | fat free | low-carb | gluten free | dairy free | high protein | paleo | vegetarian | sugar free 
Ingredients
1 piece of Lo-Dough
2 tbsps of passata
60g of grated mozzarella
2 rashers of bacon, grilled and cut into pieces
Half a banana (ideally, slightly under ripe), sliced
2-3 sprays of fry-light oil
What you'll need
This diet-friendly recipe is possible with:

Original Lo-Dough Bases
Regular price
from £3.49
Out of stock
Method
Preheat your oven to 250°C/475F/Gas 9.
Spray the fry-light into a pan, and fry off your Lo-Dough to add some colour to the base.
Put the Lo-Dough onto your cooking tray/pizza stone/air-fryer stand and spoon the passata over, making sure to spread it right to the edge.
Add half the cheese, then the bacon and banana, followed by the other half of the cheese.
Bake in your oven for 7-9 minutes or until golden and bubbling. Serve straight away.
💡 Top Tip
If you feel you like your base could be crispier when it comes out, try adding back to a hot, dry frying pan for 8-10 seconds and remove with a fish slice.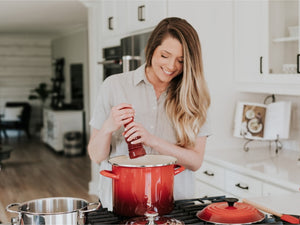 Hungry for more recipes?
Join over 200,000 subscribers in receiving new recipes, tips, offers and a whole lot more.