Simple, tasty, low-carb and low-calorie. Lo-Dough toasties deliver 
We all need a few simples recipes we can reach for...  easy breakfast, quick lunches, etc. This Lo-Dough toastie pocket is just the kind of think. 1 piece of Lo-Dough, some cheese, some cooked bacon and a little spray oil are all you need to get this delicious treat onto your plate. 
Unlike other toasties, one made with Lo-Dough won't fill you up on refined carbohydrates, but will load you up with fibre - 9.3g of it... nearly one third of your daily recommended intake. 
Ingredients
Serves 1
1 piece of Lo-Dough
2 rashers of bacon, cooked
40g of grated mozzarella (or cheddar, gouda, etc)
What you'll need
This diet-friendly recipe is possible with:

Original Lo-Dough Bases
Regular price
from £3.49
Out of stock
Method
Preheat your sandwich press/griddle and grill your bacon separately.
Add the bacon and cheese to the middle of the Lo'Dough and fold into a pocket. Spray the sandwich press/griddle with oil, place your Lo-Dough pocket in and close the press.
Cook for 3-4 mins and serve.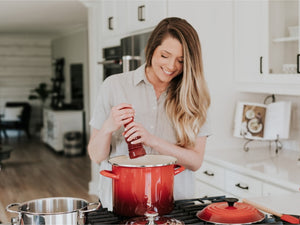 Hungry for more recipes?
Join over 200,000 subscribers in receiving new recipes, tips, offers and a whole lot more.