Low Carb Toasties with Delicious Bacon & Cheese
For little over 300 calories - incredible...
Thanks to Lo-Dough and Eatlean cheese used in combination, you can enjoy a thoroughly indulgent, bacon-flavoured, cheese-oozing delight. You can still make this with cheese of your choice, but Eatlean is particularly low in calories if you want that extra health boost without sacrificing flavour.
Not only is this recipe low calorie, it's low carb, high protein and high in fibre - a perfect, filling meal for anytime of the day. It couldn't really be an easier lunch recipe or snack idea to fit in with your diet goals.
Lo-Dough is:
Gluten free
Fat free
Sugar Free
High protein
Dairy Free
Vegetarian
Only 39 calories per piece
Try your £5 sample pack today and make pizzas, wraps, desserts and pastry like never before. Shop now 
Ingredients
1 piece of Lo-Dough
50g of Eatlean Protein Cheese
2 lean back bacon rashers
5 cherry tomatoes, chopped in half
1 spring onion, finely chopped
Spray oil
What you'll need
This diet-friendly recipe is possible with:

Original Lo-Dough Bases
Regular price
from £3.49
Out of stock
Method
Grill your bacon until cooked, chop it into bite sized pieces and put to one side.
Take your Lo-Dough and add the Eatlean cheese on top of one half. Then add the cooked bacon, tomatoes and onion. Fold the other half of the Lo-Dough over.
Using either a spray-oiled (3-4 sprays) sandwich press or even just a pan, place your sandwich in and allow to cook for approx 5-7 minutes. If using the pan, make sure it is on a lower heat, so as not to burn (you may also have to hold to top half of the Lo-Dough down until it holds as a sandwich top).
Serve hot alongside some side-salad for a nutritious lunch.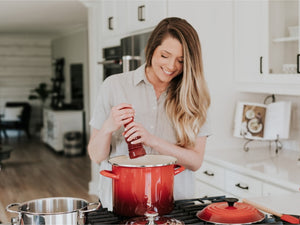 Hungry for more recipes?
Join over 200,000 subscribers in receiving new recipes, tips, offers and a whole lot more.