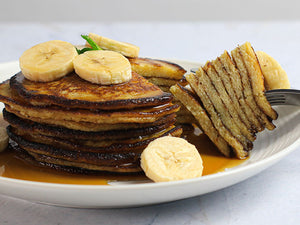 gluten-free
vegetarian
Banana Pancake Stack With Low-Sugar Syrup
Share
Facebook
Twitter
WhatsApp
Email
This is a serious belly-filling breakfast - great to kick start the day! 
Nothing much beats a stack of pancakes in the morning! With Lo-Dough you can enjoy this stack of 8 pancakes with banana and skinny syrup for just 367 kcal. Not only that, this meal will supply you 34 grams of protein and 21g of fibre - making it ideal as a post-morning-workout meal on a weekend!
This is a BIG portion - if you wish, this could easily serve two less hungry people.
Note - you will need a non-stick pan for his recipe. 
Ingredients
Serves 1
2 pieces of Lo-Dough, blitzed to fine crumbs
2 large eggs, beaten
80ml of milk
4 heaped teaspoons of erythritol sweetener (or any other sweetener of your choice)
30 sprays of spray oil (or if on a keto diet - use butter)
What you'll need
This diet-friendly recipe is possible with:

Original Lo-Dough Bases
Regular price
from £3.49
Out of stock
Method
In a bowl, mix the Lo-Dough, beaten egg, sweetener and milk thoroughly. You should have a thick, nearly cake like batter (you can do all this in a Nutri-bullet/liquidiser for a smooth batter).
Heat up a large frying pan (on a low heat) and spray approx. 10 times with the oil. Add eight goods spoons of the mix into the pan to create 8 pancakes.
Once ready to turn, lift each pancake with a spatula and before flipping over, quickly add another couple of sprays of oil to the bit of the pan where it came from.
Once ready, serve with half a chopped banana and some sugar free skinny syrup.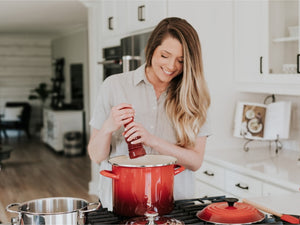 Hungry for more recipes?
Join over 200,000 subscribers in receiving new recipes, tips, offers and a whole lot more.