Start Your Day With Low-Calorie Waffles, Thanks To Lo-Dough!
If you are looking to start your morning with something special, you could do a heck of a lot worse than these sweet banana waffles. 
Crispy on the outside, fluffy-in-the-middle waffles, sliced banana, a dose of low-calorie syrup.
As an optional extra, because it was SO low calorie, so high fibre and just so damn good for us... we went with a little blob of whipped cream to add some luxury (you can go with low-fat yoghurt if you prefer!).
Breakfast perfection!
Ingredients
Serves 1
1 piece of Lo-Dough, blitzed to fine crumbs
1 large egg, beaten
3-4 teaspoons of sweetener
A little vanilla paste/extract
40ml of milk
Approx 40ml of water (or enough to loosen the batter to a thick pancake patter consistency)
Half a teaspoon of baking powder
To serve
1 small banana, chopped
40ml of skinny syrup
A blob of cream or low-fat yoghurt (optional)
What you'll need
This diet-friendly recipe is possible with:

Original Lo-Dough Bases
Regular price
from £3.49
Out of stock
Method
Preheat your oven to 200C/Gas 6. Add all the ingredients to a bowl and mix well.
Pour into your mould.
Cook in the oven for 15-20 minutes. To improve the crispness of the outside of the waffle. Take out of the mould after 15 minutes and cook on the other side for the last 5 minutes.
Serve with the banana, syrup and cream/yoghurt (if using).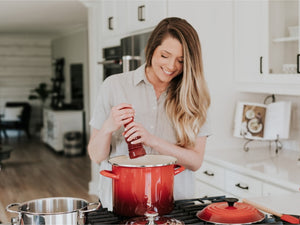 Hungry for more recipes?
Join over 200,000 subscribers in receiving new recipes, tips, offers and a whole lot more.