Low Calorie Veggie Pizza Heaven
Ok, ok, so if you are a vegetarian, the chances are that you will have eaten beetroot and goats cheese in some kind of combination before, but we bet you've never had it as part of an under 300 calorie pizza!
Using Lo-Dough as an ever-trusty low calorie and low carb pizza base, you can allow yourself this rightfully classic combination in pizza form without an iota of guilt. We've lifted the flavours of this sweet beetroot and mild goats cheese with a little onion and a few capers, for some tang and some chilli slices for heat - but you can always leave these off if you prefer. 
Low fat pizza base with Lo-Dough
Meat-eaters, don't shy away either - when pizza tastes this good, you don't miss the meat at all. 
Ingredients
Serves 1
1 piece of Lo-Dough
2 tbsps of passata
1 whole beetroot (approx 60g) cut into thin slices
60g of soft goats cheese
7g of red onion, finely sliced
Half a red chilli, sliced
Fresh basil and parsley to garnish
2-3 sprays of fry-light oil
What you'll need
This diet-friendly recipe is possible with:

Original Lo-Dough Bases
Regular price
from £3.49
Out of stock
Method
Preheat your oven to 250°C/475F/Gas 9.
Spray the fry-light into a pan, and fry off your Lo-Dough to add some colour to the base.
Put the Lo-Dough onto your cooking tray/pizza stone/air-fryer stand and spoon the passata over, making sure to spread it right to the edge.
Add half the cheese, then the beetroot, onions, capers and chilli, followed by the other half of the cheese.
Bake in your oven for 7-9 minutes or until golden and bubbling. After removing, sprinkle with basil and parsley leaves for flavour and colour. Serve straight away.
💡 Top Tip
If you feel you like your base could be crispier when it comes out, try adding back to a hot, dry frying pan for 8-10 seconds and remove with a fish slice.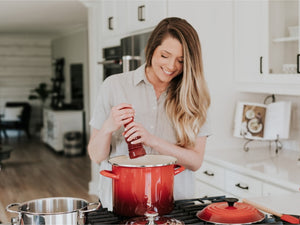 Hungry for more recipes?
Join over 200,000 subscribers in receiving new recipes, tips, offers and a whole lot more.