One of many unique low calorie pizza recipes from Lo-Dough
If you're looking for a pizza that's a little bit different, but still comes in at under 300 calories, then look no further: the black garlic ketchup pizza is here.
Black garlic ketchup?
Black garlic is an aged garlic that was first used in Asian cooking. The bulbs are heated slowly over several weeks, resulting in black cloves. The taste is much sweeter and has a hint of aged balsamic about it. It is now a commonly sought ingredient to be used in high-end cuisine around the world. 
Black garlic ketchup is a recent discovery from Hawkshead Relish Company, and it makes for superior alternative sauce base. The result was delicious - sweet and tangy with garlic without being overpowering.  
Thanks to Lo-Dough, and a full 100g of low fat mozzarella, the whole thing still clocks in at 291 calories. 
Low Calorie Pizza Recipes with Lo-Dough
Lo-Dough is:
Gluten free
Fat free
Sugar Free
High protein
Dairy Free
Vegetarian
Only 39 calories per piece
High in fibre
Try your £5 sample pack today and make pizzas, wraps, desserts and pastry like never before. 
Ingredients
1 piece of Lo-Dough, lightly fried with spray oil in a pan
30g of passata
30g of Hawkshead Black Garlic Ketchup
100g of light mozarella
A sprinkle of chopped fresh parsley
A few leaves of wild rocket
What you'll need
This diet-friendly recipe is possible with:

Original Lo-Dough Bases
Regular price
from £3.49
Out of stock
Method
Preheat your oven to 250°C/475F/Gas 9.
Mix the passata and the Black Garlic Ketchup and spread across the Lo-Dough in a thin layer, right up to the edge.
Spread the cheese over the top and put the pizza in the oven for 7 minutes or until golden and bubbling.
Serve with the basil and rocket over the top.
Top TIp - If you want a slightly firmer base after cooking, sit the pizza in a hot, dry frying pan for approx. 15 seconds.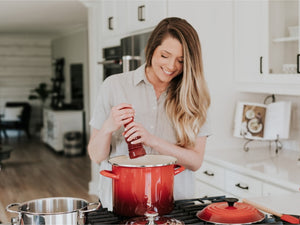 Hungry for more recipes?
Join over 200,000 subscribers in receiving new recipes, tips, offers and a whole lot more.