How can something this colourful and flavourful be so low in carbs? Make low-sugar cakes with Lo-Dough!
With Bonfire Night coming, we've got the perfect cake to match those fireworks. Our Firework cake is full of colour and EXPLODES with flavour. We've gone with a chocolate whipped cream for our topping and filling, but you could go with a sweetened cream cheese frosting, a syrup drizzle or all out chocolate if you like; the choice is all yours. 
The key is to make the cake with our incredible low-calorie, low-carb sugar free cake mix. Not only is it all that, it's packed with belly-satisfying fibre and is gluten free! All you need extra is the toppings and a few colourings. 
Have a fun and safe Bonfire Night and be sure to enjoy some cake!
Ingredients
Serves 6
1 Lo-Dough vanilla sponge mix
240g of water
4 mixed colourings
50g of dark chocolate
100ml of whipping cream
A few sprinkles (optional)
Method
Make up the Vanilla Sponge Mix according to the packet instructions (Oven preheated at 180C). When mixed, divide into 3 or 4 bowls and stir through your colours. Then blob into your 6-inch tin or mould.
Bake the mix and allow to cool, again as per the instructions.
Carefully slice in half, creating a base and a lid.
Melt your chocolate and add to the remaining cream and whip—this will be your topping. Take half of this and add a little colouring in a separate bowl to change it up. This will be your filling.
Putting the filling on the first layer and add the lid. Top with the chocolate cream and add some sprinkles. Serve.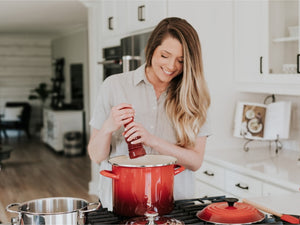 Hungry for more recipes?
Join over 200,000 subscribers in receiving new recipes, tips, offers and a whole lot more.