Make quick, low-calorie lunches with Lo-Dough
This toasted sandwich is a little taste of France, but without the carbs and calories that you'd expect to find in a regular toastie. Garlicky mushrooms, iron-rich spinach and oozing, melting brie - a winning combination if ever there was one.
You'll need to quickly wilt your spinach and then saute off your mushrooms, but after that, it's an assembly job and just 5 minutes cooking for you to have this delicious meal. 
There's just something about the way that the cheese oozes out and slightly catches on the edges that make this one feel a little bit naughty - naughty but nice - and thanks to the Lo-Dough and the vegetables, this is still full of nutrients, high in fibre, low in carbs and low in calories.
Why switch bread for Lo-Dough?
Tens of thousands of people have already switched bread for Lo-Dough, because it gives your freedom to eat pizzas, sandwiches, kebabs and toasties (amongst many other things) without the calories and carbs. 
People who are on a gluten-free diet or are on a low carb eating plan can enjoy a lot of freedom by using Lo-Dough, as bread and pastry and pizza are back on the menu for good.
Its high fibre content keeps you fuller for longer too, so the tendency to binge eat or go fridge picking at night are reduced to a minimum.
It helps that the "bread" on your toastieis only 39 calories  - giving you the leeway to go a little wild on the filings. The cheesy, mushroom filling in this case, works amazingly well as a warm, filling snack or lunch, with no bloating and no guilt! 
Low carb bread wins every time
Lo-Dough has been popular across a wide range of people, from athletes who have strict fitness goals, to people generally losing weight. As it's so low in carbohydrates it's perfect for a low carb or keto diet.
Ingredients
Serves 1
1 piece of Lo-Dough
80g of Brie, in long slices
4 chestnut mushrooms, sliced
90g of spinach, wilted (microwave for 1 minute with a splash of water and a grind of salt, allow to cool and squeeze out the excess moisture)
1 clove of garlic
A quarter of a red chilli, finely chopped
Black pepper
10 sprays of oil
What you'll need
This diet-friendly recipe is possible with:

Original Lo-Dough Bases
Regular price
from £3.49
Out of stock
Method
Take a frying pan and add around 5 sprays of oil. Gently fry your mushrooms for a minute, add the garlic and chilli and fry for a further minute then remove and add to a bowl.
Take your Lo-Dough and add the squeezed spinach, the fried mushrooms and the strips of brie. Fold the top over and place in a sandwich press (alternatively, you can cook this in a pan or griddle, pressing down with a spatula).
Serve hot with any sauce and garnish of your choice.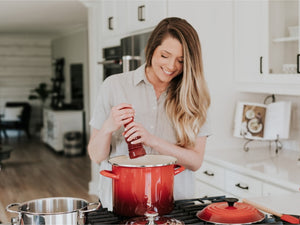 Hungry for more recipes?
Join over 200,000 subscribers in receiving new recipes, tips, offers and a whole lot more.