Make Lo-Dough Brownies part of your morning smoothie bowl! 
Smoothie bowls are a great way to start the day and give you the opportunity to get creative with the visual side of things - they tend to be very popular on Instagram. But they don't just look great - they taste great too and with the brownie added, you get a nice sweet treat that's low in calories and high in fibre!
What's not to love!
Note - The portion pictured is huge and enough to serve 2 people! Either make and save half for the next day's breakfast (just cover with cling film) or share with a friend! 
Ingredients
Serves 2
1 pack of Lo-Dough Brownie Mix. Make the batch and keep batch the other seven brownies for up to 5 days
For the smoothie
150g of yoghurt
75g of fresh raspberries
75g of fresh blackberries
2 tablespoons of erythritol
To decorate
A small handful of goji berries
A small handful of toasted flaked almonds
A small handful of pumpkin seeds
A teaspoon of desiccated coconut
A teaspoon of poppy seeds
What you'll need
This diet-friendly recipe is possible with:
Lo-Dough Brownie Mix
Regular price
£5.59
Out of stock
Method
Make the Lo-Dough Brownie Mix as per the packet instructions. Allow to cool.
Make your smoothies. Blend half the yoghurt, add half a banana, a spoon of erythritol and the raspberries. Repeat with the black berries.
Pour these into your bowl at the same time, so they meet in the middle. Add your brownie (1 per portion, cut in half!) and then decorate with the nuts, seeds and berries!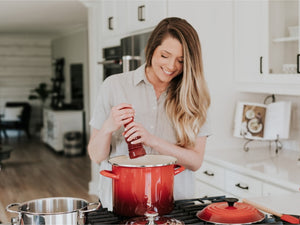 Hungry for more recipes?
Join over 200,000 subscribers in receiving new recipes, tips, offers and a whole lot more.