All the Flavours of the Famous Pasta Dish - Served as a Low Carb Pizza
Carbonara is one of the quintessential Italian pasta dishes - famous the world over. As with any dish that has travelled, it has grown and evolved over the years, with additional ingredients like cream, garlic and vegetables being added to the original recipe of eggs, guanciale (cured pig cheek - though pancetta is an acceptable replacement) and cheese. It originated in Rome and many die-hard Romans would most likely turn up their noses at anyone altering the original, but rules are made to be broken. 
Now, we're breaking the rules completely here and transporting these flavours away from pasta and onto a Lo-Dough pizza base. We hope we'll be granted a little artistic license by any traditionalists - we've used a little garlic and creme fraiche as the base sauce before adding, pancetta, mushrooms and mozzarella (it is the pizza version, after all), all finished off with an egg.
Use Lo-Dough as a Low Carb Pizza Base
It may not strictly be Carbonara in its classic form, but it's got all the classic flavours and a huge reduction in calories, carbs and will satisfy any Carbonara cravings. 
Note: If you are looking to make this more suitable for a ketogenic diet, go with streaky bacon and full-fat creme fraiche. 
Ingredients
1 piece of Lo-Dough
60g of grated mozzarella
50ml of low fat creme fraiche
50g of lean bacon, fried off
1 mushroom, sliced and fried off
Half a clove of garlic, crushed
1 small egg
A teaspoon of finely chopped parsley
10 sprays of oil
What you'll need
This diet-friendly recipe is possible with:

Original Lo-Dough Bases
Regular price
from £3.49
Out of stock
Method
Preheat your oven to 250°C/475F/Gas 9.
Add the crushed garlic to the creme fraiche and mix well. Spread across the Lo-Dough in a thin layer, right up to the edge.
Spread the grated cheese on top of the creme fraiche and then add the cooked bacon and mushrooms. Put the pizza in the oven and crack and egg in the centre before closing the door. Cook for 7-10 minutes or until golden and bubbling.
Serve with a sprinkle of parsley and a crack of black pepper on top.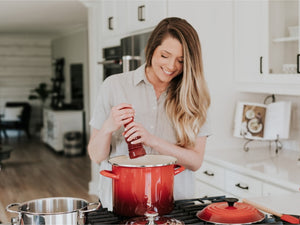 Hungry for more recipes?
Join over 200,000 subscribers in receiving new recipes, tips, offers and a whole lot more.