vegetarian
gluten-free
vegetarian
Low Carb Celeriac Dauphinoise
Share
Facebook
Twitter
WhatsApp
Email
One of the all-time side dishes with a low-carb twist. Our Low-carb dauphinoise is nothing short of dreamy
It's pretty simple really: to make a dauphinoise low-carb you have to get to the root of the problem. The root... geddit? 
Sorry. But joking aside, the vast majority of the carbs you can't eat on keto/low-carb diets are in those potatoes. Finding a replacement root for the potato could take your dauphinoise in several directions. Jerusalem artichokes would be delicious. Turnip gratins are also a fine thing. But for us, its the low carber's favourite - the celeriac.
Low-carb celeriac
Along with the cream and garlic, this veg's earthy flavour pairs perfectly and makes for something truly delicious in its own right, while dramatically lowering the carbohydrate content of the dish. 
Ingredients
Serves 8
1 whole celeriac, sliced thinly using a knife or mandolin.
300ml double cream
1 clove of garlic, crushed
30g parmesan, finely grated
Salt and pepper
Method
1. Heat oven to 180C/gas 6. Add the all the ingredients apart from the cheese to a bowl with the salt and pepper and mix well to ensure everything is well seasoned.
2. Transfer to a baking dish and arrange. Top with the grated parmesan and bake for an hour under lid/foil sheet, removed to ensure it turns golden brown for the last 5-10 minutes of cooking.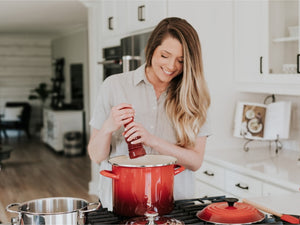 Hungry for more recipes?
Join over 200,000 subscribers in receiving new recipes, tips, offers and a whole lot more.