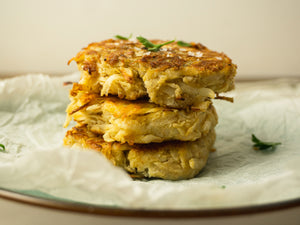 vegetarian
gluten-free
vegetarian
Low Carb Celeriac Hash browns
Share
Facebook
Twitter
WhatsApp
Email
This low carb hash brown works as a breakfast item or a side dish. Check out our amazing keto-friendly recipe.
Potato-cakes, rostis, boxty dumplings, hash browns. These delicious, golden brown, potato-based morsels are undoubtedly tasty, but a bit of a no-go area for anyone on a low-carb diet. 
Simple low carb swaps
So, we've come up with an ingenious recipe combining Lo-Dough and celeriac to create the perfect, replacement that would adorn any plate - whether it's breakfast lunch or dinner. 
Quick, simple and incredibly moreish, this is one recipe you've got to try!
Ingredients
Serves 0
1 piece of Lo-Dough, blitzed to a fine crumb
1 medium egg, beaten
80g of celeriac, grated
Salt and pepper
A few sprays of oil
What you'll need
This diet-friendly recipe is possible with:

Original Lo-Dough Bases
Regular price
from £3.49
Out of stock
Method
Add all your prepared ingredients to a bowl and mix well.
Form into 3 hash browns - they don't need to be perfectly circular!
Fry on a low-medium heat for approx. 2-3 minutes a side, or until golden brown.
Serve as part of a breakfast or indeed, alongside a main meal - they would be great with a stew or casserole
You can great in other veg if you like - parsnips, carrots or swede would all work nicely.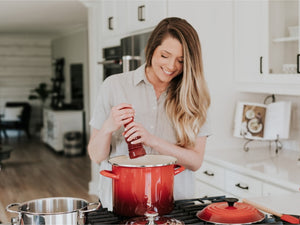 Hungry for more recipes?
Join over 200,000 subscribers in receiving new recipes, tips, offers and a whole lot more.