Makes the perfect keto veggie kebab
Halloumi is a great substitute for meat on the BBQ, given its strong salty taste and chewy firm texture - it often get's an airing when the sun comes out.
There are reduced fat alternatives available, but with Lo-Dough you needn't worry about that - you can still get a substantial and filling wrap for 400 calories. The Halloumi is dressed in Blend Bros Sweet Chilli Sauce, a squeeze of lemon and some chopped herbs and then served up alongside some delicious grilled vegetables and salad, all ready to be wrapped up in Lo-Dough.
Ready in minutes, we think this one should be a firm favourite of vegetarians and carnivores alike. 
Did you know? Lo-Dough is:
High fibre | fat free | low-carb | gluten free | dairy free | high protein | paleo | vegetarian | sugar free 
Ingredients
1 piece of Lo-Dough
100g of halloumi (cooked)
A quarter of a small red onion (with root kept on to hold it together)
Half a small red pepper, cut into two
3 cherry tomatoes, halved
A few salad leaves
15ml of Blend Bros Sweet Chilli Sauce
1 tablespoon of chopped fresh mint
Half a red chilli, finely chopped
Half a clove of garlic, finely chopped
What you'll need
This diet-friendly recipe is possible with:

Original Lo-Dough Bases
Regular price
from £3.49
Out of stock
Method
Mix your Blend Bros sauce, chilli, garlic and mint in a bowl and leave to one side.
On a BBQ or in a griddle pan, add your halloumi, peppers and onions and grill on both sides. Nice char marks will add flavour to the finished dish.
Once cooked toss the cheese and vegetables in the sauce mix from before. Leave to marinate for a few moments.
Add the salad ingredients to the wrap and then and the dressed halloumi and serve.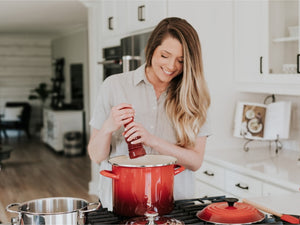 Hungry for more recipes?
Join over 200,000 subscribers in receiving new recipes, tips, offers and a whole lot more.