Low-carb and healthy pasties? With Lo-Dough as your pastry alternative, anything is possible.
Cheap, easy to make, tasty and low in calories, these Lo-Dough cheese and bean pasties really tick all the boxes.
Using Lo-Dough as a bread and pastry alternative really does put your favourite food back on the menu, and despite the fact that pasties are associated with unhealthy high street food, this way, you can enjoy them and be totally healthy. 
Our thousands of Lo-Dough users swear by these nutritional, low-calorie alternative meals. Whether you are slimming for focused on your fitness and nutrition, going Lo-Dough can be a real game changer.
Ingredients
1 piece of Lo-Dough
100g of beans (half a small tin)
30g of cheddar cheese
What you'll need
This diet-friendly recipe is possible with:

Original Lo-Dough Bases
Regular price
from £3.49
Out of stock
Method
Preheat your oven to 180C/356F/Gas 4.
Spoon the beans and cheese into the middle of the Lo-Dough and with a little water, damp the very edge of the disc, before folding over and pushing together. Use your fingers or press gently with a fork.
Brush with a little beaten egg and place in oven on a tray. Turn once half-way through cooking.
Serve piping hot.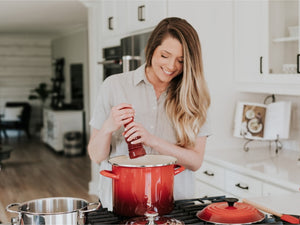 Hungry for more recipes?
Join over 200,000 subscribers in receiving new recipes, tips, offers and a whole lot more.