Low calorie garlic bread made easy
Here's a recipe for a low-calorie, low-carb cheese & tomato garlic bread that is as tasty as it is easy to prepare. Just set aside 12 minutes of your day for cooking and this light snack/side dish is all yours.
Ingredients
1 piece of Lo-Dough
1 large or 2 small clove(s) of garlic sliced/crushed
50g of grated cheese (cheddar, mozzarella, or any other good melting cheese)
1 heaped tablespoon of red pesto
2 cherry tomatoes sliced (optional)
1 teaspoon of chopped basil
1 Teaspoon of butter
What you'll need
This diet-friendly recipe is possible with:

Original Lo-Dough Bases
Regular price
from £3.49
Out of stock
Method
Preheat your oven to 220°C/425F/Gas 7.
Lightly fry the garlic in the butter for a minute, add the pesto and spread over your piece of Lo-Dough.
Add the grated cheese on top, ensuring an even spread right to the edge.
Arrange the sliced tomatoes over the top, sprinkle with chopped herbs and place into your oven for approx. 7 mins or until the cheese is bubbling and golden brown.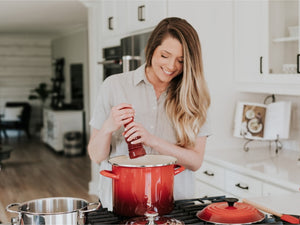 Hungry for more recipes?
Join over 200,000 subscribers in receiving new recipes, tips, offers and a whole lot more.