Originating in Naples, a calzone is a half-moon shaped stuffed pizza. This garlic flavoured cheesy chicken calzone is a great way to enjoy a protein-packed meal that feels naughty whilst staying perfectly on plan! We used lean chicken breast (free-range of course) with organic sweet corn and 5 generous sprays of Garlic flavoured Frylight to cook off the Lo-Dough. To say the result was 'moreish' would be an understatement.
This recipe counts the full calzone as one serving, however, it also works great when cut into half and shared between two people. Add a colourful and crunchy side salad to serve and you've got yourself a yummy low calorie, low carb and gluten-free dinner, all under 200 calories per person!
Ingredients
Serves 1
1 piece of Lo-Dough
100g cooked skinless chicken breast
1 clove garlic, finely chopped
30g grated mozzarella cheese
30g green pepper
30g onion
2 tbsp italian passata
Garlic Frylight
30g organic sweet corn
Egg wash (using one small egg)
What you'll need
This diet-friendly recipe is possible with:

Original Lo-Dough Bases
Regular price
from £3.49
Out of stock
Method
Remove one piece of Lo-Dough out of the packet (taking care to peel away the paper). Splash with water (so it doesn't dry out) and once your griddle pan is very hot, spray with Frylight and press the Lo-Dough down for 20 seconds on each side. Set aside.
Chop the onion, garlic and pepper.
Cook the chicken in a very hot pan for approx 4 minutes on each side. Add the pepper, garlic and onions to the pan and fry on a medium heat until soft.
On one half of the Lo-Dough, spread the passata and layer the rest of the ingredients over the top, taking care not to get too close to the edges. Sprinkle the mozzarella over the top.
Using a pastry brush, brush the exposed side of the wrap (and all of the edges) with the beaten egg and fold in half, pressing the edges so the ingredients are sealed.
Place in the centre of the oven and bake at 180°C for approx 10-12 minutes. Serve and enjoy!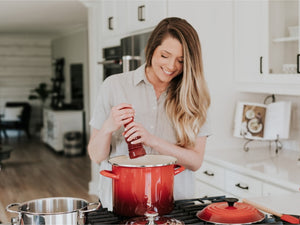 Hungry for more recipes?
Join over 200,000 subscribers in receiving new recipes, tips, offers and a whole lot more.