Fancy a delicious pie without the calories? Look no further.
This classic chicken and mushroom masterpiece will certainly fill the pie-shaped hole in your cravings. This recipe is the perfect meal for two (with some veg on the side) and only comes in at a tiny 185 calories for half the pie!
Packed full of protein and low fat, the only thing that would make this dish better is a nice pouring of gravy! 
Big thank you to Janette Jones for this great recipe.
Ingredients
Serves 2
2 pieces of Lo-dough
120g of cooked chicken
1 small carrot
1 spring onion
100g mushrooms
¼ stock cube
1 tsp dried parsley
1 tsp garlic powder
30g Philadelphia soft cheese
1 medium free range egg
Salt & pepper to taste
What you'll need
This diet-friendly recipe is possible with:

Original Lo-Dough Bases
Regular price
from £3.49
Out of stock
Method
Preheat the oven to 180°.
Take one piece of Lo-Dough, spray with Frylight, line a small oven-proof dish (trim Lo-Dough to fit), and blind bake until golden.
Dice mushrooms and carrots and cut up spring onion. Add to a pan with Frylight and cook for a few minutes over a medium heat.
Add stock cube and about 1/2 cup of water and simmer for 2 minutes before adding chicken, Philadelphia, parsley, garlic and salt and pepper.
Reduce for a few minutes until hardly any liquid remains.
Fill the Lo-Dough base with mixture then take the other piece of Lo-Dough, spray with Frylight and then trim to size to make a lid for your pie.
Brush with egg and bake for 10 minutes or until golden on top. Then enjoy!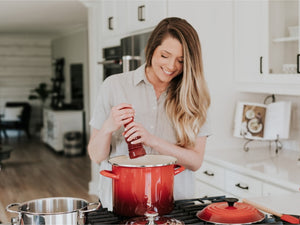 Hungry for more recipes?
Join over 200,000 subscribers in receiving new recipes, tips, offers and a whole lot more.