This is a great way to use leftover Lo-Dough and makes for an AMAZING on the program keto salad. The 'not so innocent' Chicken Caesar salad is often frowned upon by classical dieters for its use of the egg yolk used to make the Caesar sauce. However the skin benefits are often overlooked: Egg yolk is an excellent source of vitamin b5, sulphur and vitamin A, all of which are essential for healthy glowing skin.
The croutons, traditionally made from white bread contain refined grains. By swapping white bread for Lo-Dough, you are essentially giving your belly a bloat free, high fibre experience minus the added calories and carbs.
Ingredients
Serves 1
One sweet gem lettuce, teared
5 tbsp Pizza Express Lite Caesar Sauce
100g cooked organic flame grilled chicken
½ piece of Lo-Dough
20g Parmigiano Reggiano shavings
Cracked black pepper
Frylight
1 tsp dried oregano
What you'll need
This diet-friendly recipe is possible with:

Original Lo-Dough Bases
Regular price
from £3.49
Out of stock
Method
Chop the Lo-Dough into 2cm squares and fry off on a medium-high heat for 2-3 minutes with a pinch of dried oregano and cracked black pepper. If you're following a keto plan, extra virgin olive oil will work a treat, otherwise, use Frylight.
In a large mixing bowl, add the crunchy gem lettuce, torn chicken, Parmigiano Reggiano shavings and caesar sauce. Mix well.
Add the Lo-Dough croutons into the mix, ensuring the entire contents of the bowl are fully doused in caesar sauce.
Sprinkle cracked black pepper over the top and serve.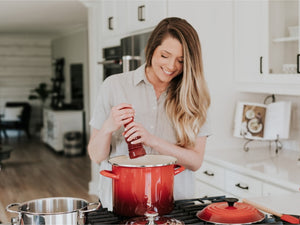 Hungry for more recipes?
Join over 200,000 subscribers in receiving new recipes, tips, offers and a whole lot more.