Low Calorie, Low-Carb, High Fibre, High Protein... & Oh So Tasty... This is The Ultimate Chicken Wrap. 
Lo-Dough has done it again: We've turned a lunchtime staple - the chicken wrap - into a high performance, healthy-eating powerhouse and without sacrificing one bit of flavour. In fact, for just 5 or 10 minutes of preparation, you will have something that tastes infinitely better than any shop bought equivalent. There is scarcely a diet that this can't be tweaked to fit with either, so nobody has an excuse not to give this a go!
First up, let's talk kimchi. It has become an increasingly popular ingredient here in the UK over the last 10 years, but if you aren't familiar with it let us introduce you! Kimchi is the national dish of Korea - a staple of many of their amazing recipes (seriously, get familiar with Korean food - it's awesome) and an amazing example of a probiotic ingredient. It is basically a salted and fermented mixture of vegetables - usually cabbage, but also, radishes, roots, spring onions and basically whatever was to hand that required preserving. It is commonly preserved with chilli, garlic and ginger to give it its unique and delicious savoury flavour and many are now finding out, it eats amazingly with almost anything!  
Now, as it contains probiotics, it is renowned for its health-boosting properties, boosting your immunity and aiding digestion. Combine that with Lo-Dough's high fibre/low carb properties and you are on to a winner.
High-Fibre Wraps
Kimchi itself is a source of some fibre, alongside some bamboo shoots, but in this particular recipe, it is the Lo-Dough that is doing much of the heavy-lifting fibre-wise. The dish actually clocks in at over 12g of fibre which is not far from half your daily recommended allowance. By making it with Lo-Dough, you get all this fibre and 22g of protein for less than 300 calories and only 12g of carbohydrate. That's a pretty sweet deal we think.
Kimchi is increasingly becoming available in mainstream supermarkets, but if you live near an Asian food store, you will be guaranteed to pick some up. Because it is preserved, it will last for a good while in your fridge - it usually comes in resealable jars for this very reason. 
We absolutely loved eating this one and wholeheartedly recommend you give it a go too! 
Ingredients
Serves 1
1 piece of Lo-Dough
100g of cooked, skinless chicken breast
50g of kimchi
30-40g of bamboo shoots, drained
A few mixed salad leaves
1 spring onion, sliced
A small piece of ginger, sliced into fine match sticks
1 cherry tomato, sliced
A quarter of a red chilli, sliced
A dessert spoon of mayo
Sriracha sauce
A few leaves of coriander to garnish
Salt & pepper
What you'll need
This diet-friendly recipe is possible with:

Original Lo-Dough Bases
Regular price
from £3.49
Out of stock
Method
Use a rolling pin to flatten down your piece of Lo-Dough.
Spread a streak of mayo across the centre of your wrap.
Arrange all the ingredients on the mayo and Lo-Dough. Season to taste and give a good squirt of sriracha sauce over the chicken. Wrap up and enjoy.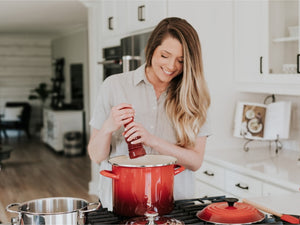 Hungry for more recipes?
Join over 200,000 subscribers in receiving new recipes, tips, offers and a whole lot more.