Lo-Dough with PBfit Peanut Butter for a low calorie protein wrap 
This is the lowest calorie, lowest carb, healthiest satay wrap recipe, created to help keep you on plan. 
By teaming Lo-Dough up with other focused nutrition products like PBfit peanut butter, you can create meals that will satisfy your macros if working out at the gym or sticking to a slimming plan. 
We added some savoury Asian ingredients to create a delicious, spicy satay sauce, to marinade some chicken before cooking and to drizzle over before serving.
It's just 209 calories
And a taste sensation considering how healthy it is. At 209 calories, 6g of carbohydrate and a huge 38g of protein. Plus, thanks to the high fibre content of Lo-Dough, one wrap turns satay chicken from a light starter into a filling meal. 
Lo-Dough is:
Gluten free
Fat free
Sugar Free
High protein
Dairy Free
Vegetarian
Low-Carb
Only 39 calories per piece
Try your £5 sample pack today and make pizzas, wraps, desserts and pastry like never before. 
Did you know? Lo-Dough also makes an amazing pizza base. Take a look at the ultimate guide to the best low calorie pizza recipes made with Lo-Dough 
Ingredients
Serves 2
2 pieces of Lo Dough, lightly toasted in a pan with spray oil
200g of chicken breast, sliced into long strips 1.5 cm wide
6 sprays of spray oil
For the satay sauce
2 tablespoons of 'PBfit Peanut Butter' (mixed with water as directed on jar)
A small handful of coriander
1 tablespoon of soy sauce
Half a red chilli, finely chopped
Half a clove of garlic, finely grated
2cm of root ginger, finely grated
The zest of 2 limes
A teaspoon of curry powder
Half a teaspoon of turmeric
What you'll need
This diet-friendly recipe is possible with:

Original Lo-Dough Bases
Regular price
from £3.49
Out of stock
Method
Preheat the oven to 180C/356F/Gas Mark 4.
Mix all the satay sauce ingredients together and in a bowl, coat the chicken in the sauce. Leave to marinade for up to 24 hours in the fridge.
Remove any excess sauce (use a spoon or even just clean hands) and save for later.
Skewer the chicken and in a wide pan on a medium heat, fry in the spray oil until nicely browned. Transfer the chicken to an oven and cook for a further 15 minutes. Ensure the chicken is cooked through before serving.
Add a little water (2-3 tablespoons) to the sauce you saved, and heat in a pan (the pan you cooked the chicken in will be fine - it will add even more flavour to your sauce) until just boiling. Then simmer for 2 minutes.
Serve the chicken in a toasted Lo-Dough wrap with salad of your choice. Drizzle with a little of the extra sauce.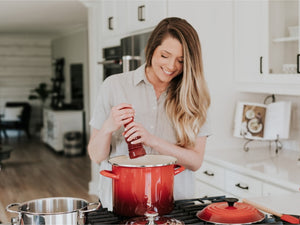 Hungry for more recipes?
Join over 200,000 subscribers in receiving new recipes, tips, offers and a whole lot more.