A great mother recipe that gives you loads of
Lo-Dough based options
Having a simple chilli recipe up your sleeve unlocks all manner of associated Lo-Dough recipes. Here, we've served our's with Lo-Dough garlic bread, but it's great for burritos, chilli bowls, as a quirky pizza sauce topping and is absolutely brilliant for topping nachos. It's a great high-fibre and high-protein meal and homemade will be far tastier than any shop-bought version. Make plenty and portion it up - it freezes perfectly. 
This particular recipe is as simple as it can get, but there are a few flavour and diet hacks you can apply.
Obviously, the heat level is totally up to you. Mix and match fresh chillis with the chilli powder and use the strength of chilli powder that best suits you.


If you are looking to lower the carbs in the dish, half the amount of kidney beans in the whole recipe to reduce 4g of carbs per serving (it would drop by 8g carbs per portion if you left them out entirely). You may want to use a mixture of higher fat mince and possibly some minced pork too. 


If you want to make it richer and a little more special, use a glass of red wine in the sauce. Another classic addition is a couple of blocks of dark, bitter chocolate. 
Ingredients
Serves 4
450g of lean minced beef
1 onion, diced
1 clove of garlic, finely chopped
1 green pepper, diced
1 tin of tomatoes
1 tin of kidney beans (undrained)
2 teaspoons of chilli powder
2 teaspoons of cumin
2 teaspoons smoked paprika
1 beef stock pot/cube
Salt & pepper
A few sprays of oil
Method
Preheat your oven 180°C/356°F.
In a frying pan (on a high heat), brown your mince. Add a little seasoning as it cooks. Place into a casserole dish once browned.
Fry the pepper, onion and garlic on a low heat for 5-10 minutes until soft and then add to the mince.
Add all the other ingredients, mix and then place the casserole dish in the oven for approx 1.5-2 hours. Check for seasoning and serve.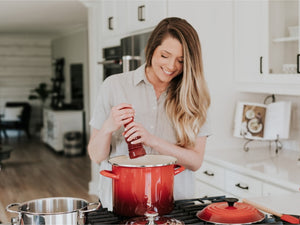 Hungry for more recipes?
Join over 200,000 subscribers in receiving new recipes, tips, offers and a whole lot more.