A Serious Low-Carb Breakfast That Is Packed With Fibre
Chole Haskell (formerly Madeley) recently featured a couple of fantastic recipes using Lo-Dough in her book 'The Fat-Loss Blitz'. It was a bit of an honour to be featured and even better, we can now share these exclusive recipes on our site. This one is a perfect low-carb and high-fibre breakfast, albeit, you'll still feel like you're indulging in the same way as a non-dieter would on a weekend morning.  
Breakfast classics - bacon, egg and tomato are teamed up with a nod to something a little more modern on a breakfast plate, the avocado. The mix is perfect - salty bacon, creamy avocado (full of healthy fats) and fresh acidic tomato, covered in beautiful, soft, scrambled egg. Oh yeah - nothing wakes you up in the morning like a splash of Tobasco - Chloe's recommendation and we love it!
A Low-Carb and High-Fibre Burrito
By using Lo-Dough instead of a regular tortilla wrap to make your burrito, you drastically reduce the carbs and calories, whilst upping the fibre. Coupled with the tomatoes and the avocado - this breakfast will have you pushing on for nearly half your recommended daily fibre intake before you've even left the house.
Fibre is great for several reasons (gut-health, satiety, non-bloating) and Lo-Dough is packed full of it. Are you hitting your recommended 30g a day? 
We can't stress this enough: #makeitwithlodough
Top tip: To make your piece of Lo-Dough texturally closer to a tortilla wrap, we recommend flattening it with a rolling pin (or even a bottle would work). This pushes Lo-Dough's fibres together, creating a slightly more dense feeling wrap and one that mimics a tortilla wrap perfectly, but without the carbs and calories, you would expect to find normally. 
Ingredients
Serves 1
1 piece of Lo-Dough
1 slice of bacon
2 whole eggs
Half a tomato, diced
Half an avocado, diced
1 teaspoon of Tabasco (optional)
1 spray of low-cal oil (optional)
Salt & pepper
What you'll need
This diet-friendly recipe is possible with:

Original Lo-Dough Bases
Regular price
from £3.49
Out of stock
Method
Place the Lo-Dough in a frying pan over a low heat to warm.
Meanwhile, place a separate frying pan over a high heat and spray with the low-cal oil, if using.
Remove the bacon from the pan and place in the centre of the Lo-Dough.
Using the bacon pan, crack in the egg and cook, stirring, until scrambled, then place on top of the bacon.
Top with the tomato and avocado and drizzle with Tabasco, if using.
Fold the bottom of the dough over the bottom of the filling, then hold the bottom in place as you roll one side of the dough over the filling until you have a wrap.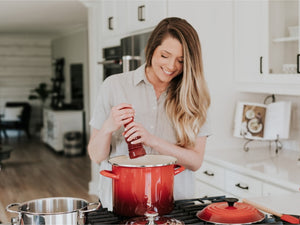 Hungry for more recipes?
Join over 200,000 subscribers in receiving new recipes, tips, offers and a whole lot more.