Full-fat, low-cal chocolate ripple cheesecake. Got your attention? 
This is a serious dessert and a great use for your brownie mix. Luscious and silky, the cheesecake mix is gently baked so it just sets without losing its creamy texture. The brownie base is the perfect foil to all this - when spread and cooked this thin it takes on a more biscuity texture. 
If you are looking for a low sugar dessert, this might just be the one for you. It also serves 12, so be sure to have plenty of hungry friends and family around to enjoy this with you!
Ingredients
Serves 12
For the base
For the cheesecake topping
800g of full-fat soft cheese
230g sweetener (we used granulated erythritol)
1½ tsp vanilla extract/the seeds from a vanilla pod
3 large eggs, plus 1 yolk
60g of 70% chocolate
30g of cocoa
What you'll need
This diet-friendly recipe is possible with:
Lo-Dough Brownie Mix
Regular price
£5.59
Out of stock
Method
Sieve the chocolate chips out of your Brownie Mix. Save them for later.
In the 8.5-inch cheesecake tin, add the Lo-Dough Brownie Mix and bake as per the packet instructions. Once baked, turn your oven down to 110°C/230°F. Allow to the brownie to cool.
Add all your cheesecake ingredients (minus the chocolate and cocoa) to a bowl and whisk thoroughly with an electric mixer until everything is fully incorporated. Pour approx half into a separate bowl.
Melt the chocolate in the microwave (along with the saved chocolate chips) approx for approx. 1 minute and then combine with the cocoa and half the cheesecake mix.
Pour each mix over the cooled brownie and marble with the end of a knife. Place in the oven to bake for 55 minutes. The finished cheesecake should have a slight wobble in the middle. If it still looks too unset - give it another 5 minutes. After cooking, turn the oven off and open the door, but leave the cheesecake cooling in the oven for a further 2 hours.
Transfer to the fridge and allow to cool and set overnight. It will be ready to serve the next day!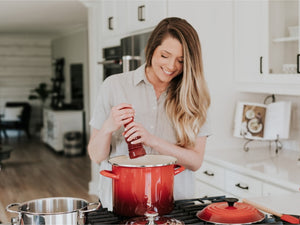 Hungry for more recipes?
Join over 200,000 subscribers in receiving new recipes, tips, offers and a whole lot more.