The combined flavours of the strong and rich Parmigiano Reggiano with its sweet and tangy flavour, the peppery rocket and the smoked paprika and garlic chorizo made this pizza a flavour smash and a true delight to devour. Who needs mozzarella?
The ultimate low carb & gluten free pizza 
With grated yellow pepper over the top, we up our vitamin intake with a tasty and nutritious assortment of vitamin A, B6, C and potassium. And with three times more vitamin C than an orange, it would have been rude not to have included some red pepper as well. Healthy pizza is the future and when used with Lo-Dough it's also low carb, high fibre and gluten-free. Thank you, universe.
Ingredients
Serves 1
1 piece of Lo-Dough
2 heaped tbsp high quality passata sauce
1 yellow pepper (very finely grated)
½ red pepper
28g sliced Parmagiano Reggiano
A handful of rocket
30g Smoked paprika and garlic chorizo
What you'll need
This diet-friendly recipe is possible with:

Original Lo-Dough Bases
Regular price
from £3.49
Out of stock
Method
Preheat the oven to 180˚C.
Remove one piece of Lo-Dough from the packet, taking care to peel away the protective paper. Fry on a medium - high heat for approx one minute on each side.
Coat the base with good quality passata sauce.
Add the red pepper, grated yellow pepper and sliced chorizo over the top.
bake for 11-15 minutes until golden. Remove and add fresh rocket, parmigiano reggiano and cracked black pepper on top to taste. Enjoy!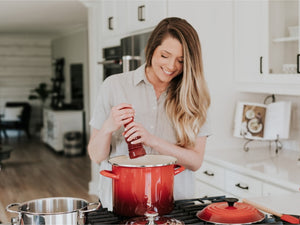 Hungry for more recipes?
Join over 200,000 subscribers in receiving new recipes, tips, offers and a whole lot more.