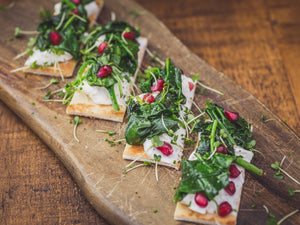 gluten-free
vegetarian
Cream Cheese, Spinach & Pomegranate Breakfast Bites
Share
Facebook
Twitter
WhatsApp
Email
Using only six key ingredients, this simple breakfast hack is super easy to make and utterly delicious. Use your leftover Lo-Dough to whip up a midday snack, serve to friends at a get-together or enjoy the whole lot to yourself as a friendly breakfast treat. At only 123 calories for four filling bites, it's hardly cheating ;)
Pomegranates are not only loaded with nutrients but they also contain two very important plant compounds, both of which have medicinal properties. One of these plant compounds 'Punicalagins' has three times the antioxidant activity of both red wine and green tea.  The spinach is high in niacin and zinc, and cream cheese is, well tasty. Perhaps a little too tasty for full fat but we'll take the lighter version all day long! 
Ingredients
Serves 1
1 piece of Lo-Dough
30g Philadelphia Light
40g Pomegranate seeds
Frylight (Buttery)
30g steamed spinach
¼ cup Watercress
What you'll need
This diet-friendly recipe is possible with:

Original Lo-Dough Bases
Regular price
from £3.49
Out of stock
Method
Remove a piece of Lo-Dough from the packet, peeling away the paper (fold the packet and secure with a kitchen peg to keep the other piece fresh).
Cut into bite-sized pieces (as though you're making soldiers for dippy eggs). Heat a frying/griddle pan on a high heat and spray generously with low calorie cooking spray. Cook for approx 1 minute on each side.
Remove from the pan and spread with Philadelphia Light and steamed spinach.
Top with watercress and pomegranate seeds.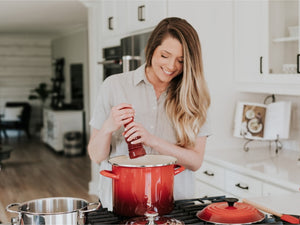 Hungry for more recipes?
Join over 200,000 subscribers in receiving new recipes, tips, offers and a whole lot more.