The Perfect Low-Calorie Veggie Pizza 
A classic combination of veggie-friendly ingredients, beetroot and goats cheese is an enduring favourite amongst vegetarians and confirmed carnivores alike. The sweet, earthiness of the purple root just marries so well with the creaminess and gentle tang of the goat's cheese. Accented with a little chilli heat and a smattering of red onion, this is a fantastic combination of flavours to find on a pizza, much as it would be in a sandwich, a salad or anywhere else!
So we know it will taste great. But what about the nutritional value? Well, it's under 300 calories, just 11g of carbs and a super-high 11g of fibre. None of that is to mention the myriad health benefits of one of the star ingredients - beetroot. Heart-healthy, blood-pressure regulating, great for digestive health - the list goes on and on. 
Goat's cheese can divide people, but the softer flavoured, creamier end of the spectrum is a good place for sceptics to start. As well as the great flavour, it will provide you with healthy fats and protein, as well as being lower in calories than cow's milk cheese. 
Lo-Dough - The Ultimate Low-Calorie Pizza Base
The real secret to this low-calorie pizza is in the base. By swapping in Lo-Dough as your base, you are nigh-on guaranteeing to lowest calorie to highest taste pizza possible. At just 39 calories and 2.2 carbs per piece, the space to add all the delicious ingredients you want is wide open for you. You can go crazy on delicious, indulgent cheese. Worried that an 8.5-inch pizza isn't going to be filling? Wait until the near 10g of fibre gets to work - trust us - a Lo-Dough pizza satiates hunger perfectly! 
If you are looking for an awesome veggie pizza, you've got to give this one a go!
Ingredients
Serves 1
1 piece of Lo-Dough
2 tbsps of passata
2-3 small beetroot, thinly sliced
70g of soft goats cheese 10g of red onion, finely sliced
Half a red chilli, sliced
What you'll need
This diet-friendly recipe is possible with:

Original Lo-Dough Bases
Regular price
from £3.49
Out of stock
Method
Preheat your oven to 250°C/475F/Gas 9.
Spoon the passata over your Lo-Dough, making sure to spread it right to the edge.
Add half the cheese, then the beetroot, onions and chilli, followed by the other half of the cheese.
Bake in your oven for 7-9 minutes or until golden and bubbling. Serve straight away.
💡 Top Tip
If you feel you like your base could be crispier when it comes out, try adding back to a hot, dry frying pan for 8-10 seconds and remove with a fish slice.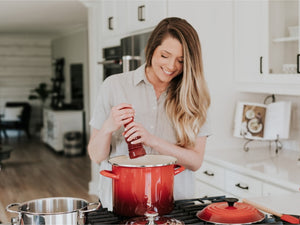 Hungry for more recipes?
Join over 200,000 subscribers in receiving new recipes, tips, offers and a whole lot more.