Low calorie chocolate bites for a healthy sweet dessert
Using Lo-Dough as a baking ingredient, we have come up with some 85% Dark chocolate coated, luxurious chocolate cakes that won't upset your slimming or work-out plan.
Each cake weighs in at 50g each (some shop bought bars are only 25-30g) and also provides you with a good hit of fibre, so will actually satiate your hunger. But more than anything else, they are delicious, luxurious treats. 
They are also simple to make - The cake takes one and a half minutes in the microwave - then melt some chocolate and coat. So while reaching for a shop bought product might be marginally more convenient a few minutes out of your life to mix up a few ingredients and microwave will deliver a far superior product.
Did you know? Lo-Dough is:
High fibre | fat free | low-carb | gluten free | dairy free | high protein | paleo | vegetarian | sugar free 
Ingredients
Serves 3
1 piece of Lo-Dough, blitzed to fine crumbs
20g Sukrin sweetener (or any good baking sweetener of your choice)
1 large egg, beaten
20g of Oatly Creme Fraiche
A heaped teaspoon of cocoa
A few drops of vanilla extract/essence
20g of dark chocolate, broken into small piece
What you'll need
This diet-friendly recipe is possible with:

Original Lo-Dough Bases
Regular price
from £3.49
Out of stock
Method
Add the egg, creme fraiche, cocoa, sweetener and 2-3 drops of vanilla extract/essence into a bowl and beat with a whisk. Add the Lo-Dough crumbs and combine.
Spoon the mix equally into the silicone moulds (or mugs) and microwave for 1 minute and 30 seconds. Take out and allow to cool.
Melt the chocolate in a microwave for approx 1 minute and carefully spoon/pour over the cakes. Allow chocolate to set before serving.
🍽 Serving suggestion
Sprinkle with chocolate curls for an additional visual impact.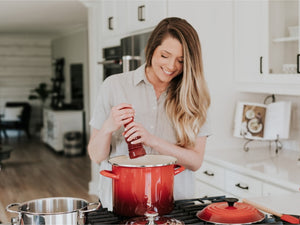 Hungry for more recipes?
Join over 200,000 subscribers in receiving new recipes, tips, offers and a whole lot more.