A Low Calorie, Low Carb Egg-Custard Tart Recipe, Adaptable To Any Diet.
Serious news for all you dessert-lovers out there - we have come up with a sugar-free adaption of the egg tart recipe that the 2-Michelin-starred chef Marcus Wareing made for the Queen on her 80th birthday. Using Lo-Dough as the pastry replacement and swapping out the sugar for quality sweetener, you get all the rich creamy taste of the original, but with the added bonus of it now being suitable for any diet.
At 159 calories per quarter, 2.5 carbs and 1g of sugar, this is a dream dessert for those of you on any diet - the single cream could be swapped out for skimmed milk if desired to drop the count for all the slimmers looking to indulge. 
You will need to make a fresh custard, but it's incredibly simple - it takes just 10 minutes to pull together and then when poured into the Lo-Dough case, the whole thing is gently baked for a further 25 minutes. It holds up as a stand-alone item - the nutmeg and vanilla making it heady and indulgent, but it can just as easily be garnished with more cream, creme fraiche, fresh fruit - anything you desire. 
Every so often, we all need a sweet treat, but that doesn't mean you have to reach for the sugar. Many baked recipes can now be made with quality modern sweeteners - give them a go - we promise you won't miss the sugar! 
Ingredients
Serves 4
1 piece of Lo-Dough
2 large eggs
4 egg yolks
165ml of single cream
25ml milk
70g of sweetener (erythritol)
1 vanilla pod
Half a tablespoon of grated nutmeg
What you'll need
This diet-friendly recipe is possible with:

Original Lo-Dough Bases
Regular price
from £3.49
Out of stock
Method
Preheat your oven to 140c/Gas Mark One. In a sauce pan, gently heat up the cream and milk with the split and deseeded vanilla pod until just too hot to touch.
While the cream/milk is heating, whisk the eggs, egg yolks and sweetener thoroughly.
Pour the hot cream/milk over the egg mixture, whisking the whole time.
Pour the custard mix back in to the original pan, but through a sieve to catch the vanilla pod. Gently heat for a little while longer, while stirring, just to thicken a little.
Roll out your Lo-Dough flat between two pieces of paper found in the pouch and work into a 7inch tin.
Pour in the custard mix, grate over the nutmeg and then place the tin in the oven and bake gently for 35-40 minutes. The custard should be set, but still have a bit a wobble.
Allow to cool on a rack and once cooled enough place in the fridge for at least an hour before serving.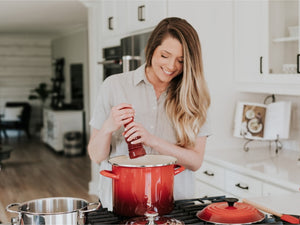 Hungry for more recipes?
Join over 200,000 subscribers in receiving new recipes, tips, offers and a whole lot more.