Everybody loves a dripping Eggs Benedict: The latest 'fashion food' to have swept the worlds hipster districts, brunch lovers across the world are forking out big money for this classic New York dish as we speak, and for good reason.
Whilst some bene lovers swear by adding ham, others are adamant that bacon is the only way to go. There are a lot of calls to be made, but for us, it's bacon all the way. We've seen some fantastic variations for ketogenic dieters, adding bacon and avocado with a rich and creamy homemade hollandaise sauce, whilst calorie conscious slimming groups have adapted theirs to include lean ham and mock Hollandaise sauce using fat-free yoghurt.
If you're following a LCHF/ketogenic meal plan, then this is the perfect variation for you. If not, we would recommend adapting your own low-fat recipe for the Hollandaise sauce.  Either way, it's a winner.
The best thing about this variation is the inherently low carb, bread-like quality Lo-Dough has on offer. We used one piece to cut out four small disks, then soaked in egg wash for a couple of hours. The results were astonishing…
Ingredients
Serves 1
1 piece of Lo-Dough
2 eggs, beaten
2 pieces of bacon
1 handful chopped chives
2 tbsp white wine vinegar
1 egg (for poaching)
The Hollandaise Sauce
Two large free range egg yolks
60g unsalted butter, melted
One tbsp freshly squeezed lemon juice
What you'll need
This diet-friendly recipe is possible with:

Original Lo-Dough Bases
Regular price
from £3.49
Out of stock
Method
Soak one piece of Lo-Dough in a mixing bowl in egg wash for 1-2 hours (You may wish to do with the night before for an overnight soak). Remove and drain off any excess liquid.
Fry/Grill your bacon to prefered crispness.
Meanwhile, cut your Lo-Dough into four small circular disks using a small pastry cutter or knife, place your disks of Lo-Dough into the frying pan and cook on a medium heat for 3-5 minutes on each side.
To make the hollandaise, place a heatproof bowl over a deep saucepan of simmering water, (the bowl should not touch the water).
In the bowl over simmering water whisk together the egg yolks, vinegar and lemon juice, taking care not to scramble the eggs.
Once the egg mixture is completely smooth slowly add the butter whilst whisking, the sauce will start to thicken, season to taste.
Chop up a handful of chives, for garnish.
To poach the egg, bring a saucepan of water up to a simmer and add the 2 tbs of white wine vinegar.
Stir the water to create a small vortex and add the egg, poach for 2-3 minutes.
To serve, layer the Lo-Dough and carefully place the poached egg on top, spoon over the hollandaise sauce and sprinkle with your chopped chives.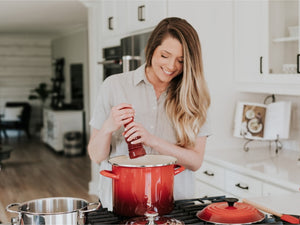 Hungry for more recipes?
Join over 200,000 subscribers in receiving new recipes, tips, offers and a whole lot more.