Try This Low-Calorie Mediterranean Combo As The Filling In A Nutritious Wrap
For a nutrient-dense and tasty mix of flavours and textures, this vegetarian wrap is an absolute smash! Paired with just 30g of salty, creamy feta and some warming spice the whole dish is taken to another level entirely. 
The mixture of veg is up to you, but we'd recommend thinking along Mediterranean lines: Courgettes, Peppers, Tomatoes, Aubergines, Onions - plenty of garlic too. Make more than you need - it can be kept in the fridge and used through the week or frozen in batches for quick meals. To roast simply chop up the vegetables and put in a tray with extra virgin olive oil or plenty of fry light depending on your dietary preference. Season with salt pepper and chilli flakes and roast in a hot oven for 20-30 minutes. 
This mix would be equally at home on a pizza, in a toastie and even in a salad, but we wanted to put it to use in a Lo-Dough wrap to show how quick and easy it is to get a low-calorie and low-carb fix when you have some Lo-Dough to hand.
Don't forget, for the optimum wrap experience with Lo-Dough, roll it out flat with a rolling pin (or even a wine bottle!). 
Ingredients
Serves 1
1 piece of Lo-Dough
50-60g of roasted vegetables
30g of crumbled feta cheese
10-20g of mixed salad
What you'll need
This diet-friendly recipe is possible with:

Original Lo-Dough Bases
Regular price
from £3.49
Out of stock
Method
Roll out your Lo-Dough with a rolling pin until flattened to tortilla thickness.
Arrange the salad leaves on your Lo-Dough, followed by the roasted veg and crumbled feta.
Wrap up and eat straight away, or wrap up in foil and save for later in the day.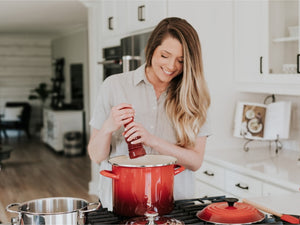 Hungry for more recipes?
Join over 200,000 subscribers in receiving new recipes, tips, offers and a whole lot more.