This Fantastic High-Fibre Wrap Is Flavour-Packed Veggie Heaven.
We've combined some of our favourite fibre-rich vegetables with Lo-Dough to create an absolute powerhouse of a wrap. Chickpeas (in the hummus), roast carrots, roast broccoli, and roast beetroot, alongside some roast onions - all wrapped up in a piece Lo-Dough, with feta, olives and a balsamic drizzle to make all even tastier. Feeling hungry? We certainly are! 
So let's break it down. The LoDough gives you a whopping 9.3g of fibre. Then the roast vegetables give you a further 3g and the hummus gives you 2g more on top. Which puts this wrap at 15.3g of gut-healthy fibre, for only 322 calories and 22g of carbs.

Homemade High-Fibre Vegetable Wraps
We recommend making your own hummus - there are loads of recipes available online and you can make a much better-flavoured dish for far cheaper than bought hummus - plus - it only takes a few minutes.  
Meanwhile, simply roast a large tray of veg - these will come in for a few days and can be used as part of another dish, served in a salad, blitzed into a soup or reheated and served as a side-dish. We roasted off a few chunkily chopped carrots, a load of whole beetroots and some quartered red onions in a tray with a few sprays of oil in a hot hot oven (200C). After 25-30 mins we added a whole head of chopped broccoli and continued to roast for a further 20 minutes. A nice addition here might be a few drops of cider vinegar or lemon juice, just to give the veg a little zing. 
So why not try this great veggie dish a whirl - do it on a Sunday afternoon, knowing you've got a few days of delicious veggie options ahead! Remember for that massive fibre hit, make it with Lo-Dough!
Ingredients
Serves 1
1 piece of Lo-Dough
50g of roasted carrot
50g of roasted beetroot
50g of roast broccoli
A few leaves of roasted red onion
2 tablespoons of hummus
30g of crumbled feta
4-5 Olives
A drizzled of balsamic
A few salad leaves
Salt & pepper
What you'll need
This diet-friendly recipe is possible with:

Original Lo-Dough Bases
Regular price
from £3.49
Out of stock
Method
Roast the carrots, onions, beetroot and broccoli as described above. Leave aside to a cool a little once finished.
Roll out your Lo-Dough thinly between two sheets of the paper found in the packet with the Lo-Dough.
Arrange all the ingredients in the wrap, roll up and eat!
🍽 Serving suggestion
For an extra sauce, try using a little raita - it works brilliantly with the roasted vegetables and hummus.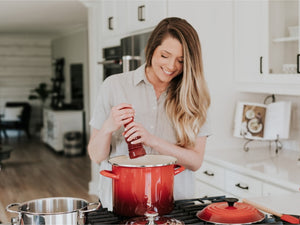 Hungry for more recipes?
Join over 200,000 subscribers in receiving new recipes, tips, offers and a whole lot more.