Can't decide what to eat? This low-calorie pizza means you don't have to!
Losing weight and eating pizza has never been so deliciously easy. We're taking it back to the old school with this retro, four-seasons Lo-Dough low-cal pizza. Loaded with cheese and a variety of toppings, this is a fun and different fake-away for you to enjoy - as ever low on calories and low on carbs.

Top with anything you like - it's our unique base that is the low-carb secret here.
Ingredients
1 piece of Lo-Dough
2 tbsps passata
70g grated mozzarella
15g of pepperoni
2 button mushrooms, sliced
3 olives, sliced
2 cherry tomatoes, sliced
1 clove of garlic, crushed
Fresh basil
2-3 sprays of fry-light oil
Salt & pepper
What you'll need
This diet-friendly recipe is possible with:

Original Lo-Dough Bases
Regular price
from £3.49
Out of stock
Method
Preheat your oven to 250°C/475F/Gas 9.
Spray the fry-light into a pan, and fry off the mushrooms for 2 minutes, adding the garlic after 1 minute. Put to one side.
Put the Lo-Dough onto your cooking tray and spoon the passata over it, making sure to spread it right to the edge.
Add the cheese, followed by the various toppings, roughly separated into four quarters.
Bake in your oven for 7-10 minutes. After removing, sprinkle the vegetable quarter with the basil leaves for a hit of fresh flavour and colour. Serve straight away.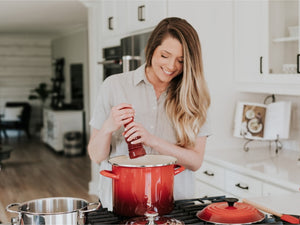 Hungry for more recipes?
Join over 200,000 subscribers in receiving new recipes, tips, offers and a whole lot more.