Start the day with this gut-busting low-carb breakfast!
All your favourite cooked breakfast items are here, but you won't believe just how low in carbs and calories you can make it when you use Lo-Dough. By switching the regular bread in your breakfast for Lo-Dough's low-carb bread - and turning it into savoury French toast, you'll create something so decadent, you won't miss the boring old buttered toast!
The only time-consuming element of this dish is soaking the Lo-Dough in the egg. You can do this overnight, otherwise, approx. 30 minutes before cooking should be enough. Grill your meats and tomatoes, poach your egg and cook your beans - bring it all together and hey presto, breakfast for 445kcal and 19g carbs.
Take off the beans and this rocks in at a keto-friendly 6g of carbs!
Ingredients
Serves 1
For the french toast
1 piece of Lo-Dough, cut into quarters
1 egg, beaten
20ml of milk
A few sprays of oil
To serve
2 rashers of bacon
3 low-carb chipolata sausages
3 cherry tomatos
100g of baked beans
1 egg
What you'll need
This diet-friendly recipe is possible with:

Original Lo-Dough Bases
Regular price
from £3.49
Out of stock
Method
Add one egg and the splash of milk to a bowl and mix well with a fork. Season with a little salt and pepper (go easy on the salt). When combined, add your Lo-Dough. Leave this mix in the fridge for a minimum of 30 minutes, for the.
Lo-Dough to absorb the liquid.
Prepare your ingredients for the grill (the sausage, bacon and tomatoes) and put your beans in a pan. After the Lo-Dough has had around 25 minutes soaking, you can get these on to cook.
Meanwhile, on a low heat, add the spray oil to a frying pan and gently fry the eggy Lo-Dough until golden brown. The Lo-Dough will be a little fragile after soaking, so treat it carefully.
While the eggy bread cooks, you can quickly poach your egg. Cook in water with a little vinegar and cook to your liking.
Once everything is cooked, stack up on a plate and serve.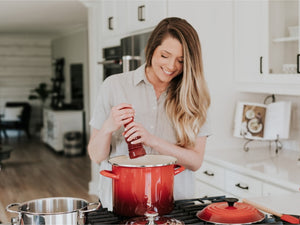 Hungry for more recipes?
Join over 200,000 subscribers in receiving new recipes, tips, offers and a whole lot more.