This low-calorie breakfast is an absolute treat!
If you are looking for a great, sweet breakfast to start your day, this take on french toast, with peaches, cream and fresh mint is going to be right up your street. Simple to prepare, low-calorie, low-carb, high-fibre, French toast made with Lo-Dough isn't like the rest. 
All you need are a few simple ingredients - if you can get hold of fresh ripe peaches - perfect, but if not, just use tinned peaches (in juice) - that's what we did!
The drizzle of cream adds a little luxury and the mint leaves makes it super fresh! 
Ingredients
Serves 1
1 piece of Lo-Dough, cut into quarters
1 large egg, beaten
20ml of semi-skimmed milk
Vanilla seed/paste
1 tablespoon of erythritol sweetener
Half a tin of peach slices, drained
A few fresh mint leaves
A little single cream to drizzle (approx 1 tablespoon)
Approx. 10 sprays of oil
What you'll need
This diet-friendly recipe is possible with:

Original Lo-Dough Bases
Regular price
from £3.49
Out of stock
Method
Add the egg, sweetener, vanilla seed and milk to a bowl and mix well with a fork. When combined, add your Lo-Dough. Leave this mix in the fridge for around 20-30 minutes for the Lo-Dough to absorb the liquid.
On a low heat, add the spray oil to a frying pan and gently fry the eggy Lo-Dough until golden brown. The Lo-Dough will be a little fragile after soaking, so treat it carefully.
Once cooked, add the peaches slices, fresh mint and drizzle with some single cream.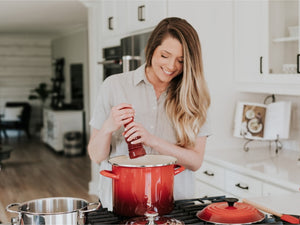 Hungry for more recipes?
Join over 200,000 subscribers in receiving new recipes, tips, offers and a whole lot more.