Low calorie pizza recipe making your fridge raid guilt free...
You know those times, usually at the end of the week, when you have a few vegetable stragglers hanging on in the fridge. Not enough in and of themselves to make a meal? Well, we had that problem last week, but with Lo-Dough around it's not a bad problem to have - just make a pizza. 

A low fat pizza base - and much more
After a week's worth of cooking at Lo-Dough towers, we had a few mushrooms, a couple of asparagus spears, a couple of spring onions, a single slice of ham, two tomatoes and half a bag of salad laying around in the fridge. With the addition of cheese, passata and Lo-Dough, what might have been food waste was turned into a perfect dinner. 
Find more low calorie pizza recipes 
Ingredients
1 piece of Lo-Dough
2 tbsps (25-30g) of passata
75g of grated mozzarella
1 slice of ham
2 spears of asparagus, blanched in salted boiling water for 3 minutes
2 cherry tomatoes
2 mushrooms
2 spring onions
A few fresh basil leaves
2-3 sprays of fry-light oil
Salt & pepper
What you'll need
This diet-friendly recipe is possible with:

Original Lo-Dough Bases
Regular price
from £3.49
Out of stock
Method
Preheat your oven to 250°C/475F/Gas 9.
Quickly and lightly toast of your Lo-dough slice in a couple of sprays of fry-light.
Put the Lo-Dough onto your cooking tray/pizza stone/air-fryer stand and spoon the passata over it, making sure to spread it right to the edge.
Add most of the cheese and then your ham, mushrooms, asparagus and tomatoes, followed by a remaining sprinkle of cheese.
Bake for 7 minutes. After removing, sprinkle with basil leaves for flavour and colour. Serve with any salad you might have leftover in the fridge. Serve straight away.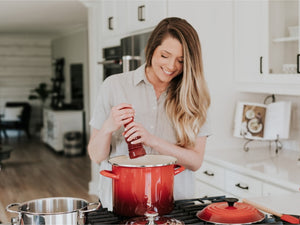 Hungry for more recipes?
Join over 200,000 subscribers in receiving new recipes, tips, offers and a whole lot more.