This creamy delight is packed with antioxidants and is so warm and delightfully fruity that you'd never guess it was so healthy for your bones - and it's gluten free too.
The light and creamy 'fromage frais' for a perfect accompaniment to the subtly tart raspberry muddle and best yet, this fruity delight contains only 5g fat.
To flavour the Lo-Dough pancakes we used Jordan's Vanilla Skinny Syrup along with the oh so delectable Madagascan vanilla extract. If time is on your side, you'll want to soak your Lo-Dough the night before as this gives plenty of time for it to really soak in the flavour. Make your raspberry muddle at the same time and leave in to cool in a container overnight.
High fibre | fat free | low-carb | gluten free | dairy free | high protein | paleo | vegetarian | sugar free 
Ingredients
Serves 1
1 piece of Lo-Dough (cut into quarters)
1 tbsp Low-fat crème fraîche or buttermilk
1 tsp Madagascan vanilla extract
100g fat-free fromage frais
1 tbsp vanilla skinny syrup
Two small handful of mixed berries
One large free-range egg
Buttery Frylight
2 tbsp orange juice
What you'll need
This diet-friendly recipe is possible with:

Original Lo-Dough Bases
Regular price
from £3.49
Out of stock
Method
To make the batter simply beat the eggs, vanilla extract, vanilla skinny syrup and low-fat buttermilk until smooth.
Soak the Lo-Dough in the mixture and refrigerate for 20 (if you're short on time) - 60 minutes. For best results, we would highly recommend at least one hour or longer as this allows the Lo-Dough to really soak up the mixture for the best (and indeed tastiest) effect.
Preheat a frying pan on medium to high heat. Remove the soaked Lo-Dough from the fridge and fry in Buttery Frylight for 2-3 minutes on each side until golden.
Layer the cooked Lo-Dough quarters on top of one another in a stack and spoon the low fat fromage frais between each piece.
To make your raspberry muddle, simply add one small handful of mixed berries to a small saucepan with the orange juice on a medium heat. Once bubbling, reduce heat and mash the mixture with a wooden spoon. Remove from heat.
To serve, add the rest of the fromage frais to the top of the pancake stack and pour over the raspberry muddle.. Add another small handful of berries and serve immediately.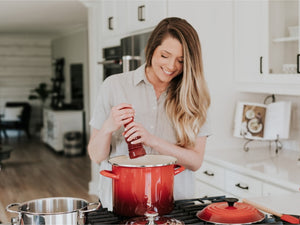 Hungry for more recipes?
Join over 200,000 subscribers in receiving new recipes, tips, offers and a whole lot more.